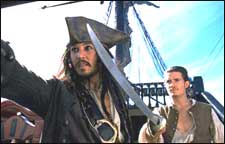 We have seen that one where the hero escapes from an island, finds a treasure, and marries his sweetheart. We have seen that one where the hero rescues a damsel in distress from the clutches of an evil man. We have seen that one where the hero joins forces with the villain with a good heart to save the world. We have seen that one where there is honour among thieves. And, in Pirates of the Caribbean, we have seen them all, in one film.

Jack Sparrow (Johnny Depp) - beg your pardon, Captain Jack Sparrow - is in line for the best pirate of the year award. Captain Barbosa, though, has other plans. He leads a mutiny on the ship 'The Black Pearl', and overthrows him. Now, this Black Pearl is not your regular everyday pirate ship. In its heyday, it could give the USS Enterprise a run for its money. Of course, the USS Enterprise was still nine hundred years away then. With this ship, Barbosa amasses a huge treasure.

We have William Turner who was rescued by Elizabeth Swan (Keira Knightley), the Governor's daughter, about eight years ago. She had found a pirate medallion around his neck, which she hid so that his life is spared. It turns out that this medallion is one of 882 identical Cortez medallions. These were stolen a long time ago by Barbosa and his men. Now they are under a curse - immortality. They now start returning the medallions to the box where they stole it from. The last piece is with Ms. Swan.

Captian Barbosa takes Ms. Swan hostage. When Turner finds out that the Royal Navy is not going to rescue his flame, he turns to Sparrow for help. Sparrow accepts. Why wouldn't he? He got free from the prison in return. Not a bad deal, eh? So, they assemble a crew, attack the Black Pearl, rescue the Governor's daughter, Sparrow gets the Black Pearl, and Ms. Swan becomes Mrs. Turner.

The film has a great background score that gels well with the story and the situations. The cinematography is magnificent, too. All actors have made the best use of whatever scope was available to them. None as well as Knightley, though - especially when she had to cast her feminine spells. All other factors - direction, editing, scripting, et al - are as good as one would expect of a Jerry Bruckheimer production. But originality is a completely different aspect altogether, and that is why the film gets as low a rating as this.

Plagiarism in itself is not peccant. After all, there are only so many stories that exist, and all films are worked around them. What sets the good ones from the rest is just this - the audience not being able to figure out where they saw that one before.

Why can't the Creative set a good example for those whose creativity is poor

The almost complete dearth of ideas has left one close to tears

There even are places where ideas have completely disappeared

Well, in Hollywood they haven't had them for years!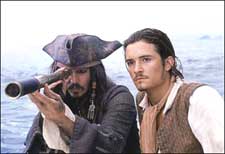 It does not take much to make something innovative if we were to go by what Einstein once said: "The secret of creativity lies in knowing how to hide your sources." For instance, the four lines above are not exactly original. Where have they been said before? That is for me to hide and for you to find out.