The Last Supper happened on Friday the 13th. According to the Urban Legends, the day is associated with several catastrophes across the world. Premante, which hit theaters on this dreadful Friday, happens to be one.

Premante is the celluloid version of 'Love made easy for dummies". Only this time, even dummies may find its contents supremely insulting to their IQ. Venu (Venugopal) and Shailu (Shruti) meet each other after their cars bump into each other while parking. 'Hey you blind Ox," curses Venu. "You foolish fox,' screams Shailu. "Get lost, you silly chap with a face like a virus-infected floppy," says S. "Take a hike, you bozo with a face like a dead e-mail account," he swears. And I swear, I am not making up any of these. This juvenile conversation is the sign of things to come.

Two college parties and five minutes later, love happens, and Venu and Shailu's parents decide to get them married. When the going seems great for the lovers, the elders call off the wedding. Without assigning any reasons (in order to maintain suspense), Venu and Shailu are packed off the Vizag to live as paying guests in the same house.

They start living under the same roof and realize love is not all that it seems. The two have a showdown on issues like 'why did you let that girl ride pillion in your bike' and 'why did you let that guy touch your hand'. Love goes for a toss.

Things get worse when Venu comes to know his Dad is now a pauper as he has lost all his property in the IT raid. Instead of meeting up with his Dad and discussing things, stupid Venu goes ahead to get married to his classmate who promises to help him

financially if he agrees to marry her. Shailu now realizes that she dearly loves Venu, and goes back to him.

When everybody has stopped being stupid, the parents enter to reveal that all this nautanki of calling off the engagement, the fake IT raid and other such things were set up in order to make the girl and the boy realize what true love is. You are also told the idea of letting the lovers live in for a while before getting married is based on the dating system that is prevalent abroad. Wow! One round of applause here!

The rate at which such inane movies are churned out every Friday makes us suspect there is some scam in here. The direction is so staggeringly mediocre that such levels can be achieved only with some effort. It seems like the director is trying to break free from the concept of having a story to make a movie. Like the unlucky 13th, his experiment is doomed.

The cast looks like the director picked them up by choosing slips from a lot. They all act like they are rehearsing for a stage play in college.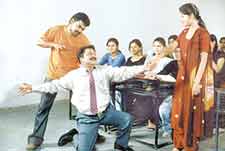 The most outstanding feature of the movie is the ungrammatical English and the insufferable accents. Sample this:

Venu: Hhhaai, what are yuvar habbies!

Shailu: TV and movie watching and music listening!

Venu: Wow, let's go movie!

The music is said to be a collaborative effort of six composers with Shashi Preetam as the anchor. Then how come I don't remember any song in the movie except the Dil Chahta Hai number that buzzed on somebody's mobile ringtone in the theater?

So your good deed for the day: Spread the word about Premante.