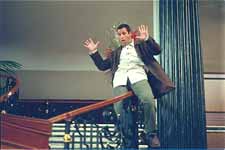 Mr. Deeds is a remake of Frank Capra's "Mr. Deeds Goes To Town", that great Depression-era comedy that immortalized the small-guy psyche of America. The 1936 movie was nominated for Academy Award for Best Picture, and lost out to another classic, The Great Ziegfeld. Likewise, The Great Ziegfeld has a better chance of winning the 2003 Oscar race than this Sandler imitation.

Now most of Hyderabad doesn't know Sandler from Adam (hahahahohoho, and compared to some stuff you find in the movie, that one could've been from Mark Twain), and things are going to remain that way. So to give you an idea, suppose Swati Mutyam was remade with Uday Kiran playing Kamal Hasan's role. And suppose they made it to be a comedy. There.

The plot? Okay, don't try this at home, but when media baron Blake (Harve Presnell) dies, he leaves $40 billion in stock to small-town pizzeria owner Longfellow Deeds (Adam Sandler) that's also the controlling stake in the empire he's built. Normally they should all have lived happily ever after, but Chuck Cedar (Peter Gallagher), Blake's crooked second-in-command, has other plans that mostly involve a signature by Deeds on a stamped paper.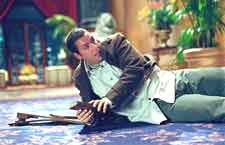 For this purpose, he gets the halftime-poet, halftime-pizza-delivery-man and fulltime-non-actor Deeds to New York from native Mandrake Falls. Here he proceeds about infusing his small-town homey values into the spoilt rich of New York city that he runs into, with a gusto that only Adam Sandler can manage, with the possible exception of a cucumber.

When Gary Cooper did this in the original, it showed that nothing could subdue the great American spirit, even in times of acute distress - and the role fit Cooper like a glove. Sandler too shows that nothing can subdue the great American spirit even in acute distress, as can be witnessed by the fact that so many Americans have already been through this movie. And yes, the role fits Sandler like a glove, too - any role fits Sandler like a glove, since he does exactly the same things each time, which is basically nothing.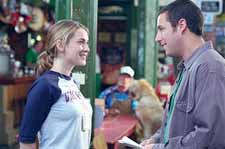 Anyway, among the people reformed by Deeds is also Babe (Winona Ryder), a slimy reporter for a rival network that wants to do the insider on the new billionaire of New York, who befriends Deeds to get the scoops, but is thrown into contrition by his guileless persona. And the film ends with good triumphing over evil, namely in it ending.

So? Well, the film will appeal to all Sandler's fans, since by definition anything appeals to them. Indeed, his mega-star status is a reflection of how the current crop of America, exposed mostly to bonehead muscle-bound action heroes, is more accommodative than it has ever been in its standards. He does what he's best at - stay placid and duh for the most part, and jump into animated convulsions intermittently. His fans live for those flashes of perceived comedy, spending the rest of the movie waiting for them. Okay, so the film lacks the grossness his flicks are normally made of, but well, these things happen.

The support cast is quite talented, and is the saving grace. The beleaguered Winona Ryder does fine though it's tough to match up to Jean Arthur, but the show-stealer is undoubtedly John Turturro, who plays a stealthy but good-natured butler. On the whole, this is a film that should've never been remade in the first place, and hopefully Sandler will never get inspired by that other Oscar winner, Gandhi.