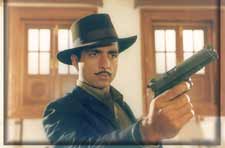 Patriotism sells. But given four versions of one of the most romantic and valiant freedom fighters India had, Shaheed-e-Azam couldn't sell enough to pay for Bhagat Singh's hat. Especially considering that the others include a Bobby version with elder bro Sunny playing Azad, the Devgan version, and of course, the fourth version which is facing trouble from the censors.

What does Shaheed-E-Azam have to offer when compared to its rival Bhagat Singhs? Well, another version of "Mera Rang De Basanti Chola" for one. And of course, a Bhagat Singh who would be a fitting model for Madame Tussaud's. Then there are 11 patriotic songs that are inspired by anything ranging from sarson-ka-saag to the high quality hemp used in nooses. Game?

Considering you will be coming back to read the other Bhagat Singh reviews here, we'll get done with the story once and for all. This is for those souls who took their eighth grade history a little easy.

Bhagat Singh (Sonu Soodh) is born into a full-time freedom fighting family. Inspired by his Chacha Ajit Singh, who polishes off cops and sings lustily, Bhagat Singh exercises and jogs his way to youth and the National College at Lahore. There he abandons his solo act on meeting Sukhdev (Dev Gill), and they start rendering anti-Brit slogans together. Further inspired by Chandrashekhar Azad (Raj Zutshi), the two team up with Maratha Raj Guru (Raju Kapre) and start off on the shortcut to the noose (do not pass go, do not collect 200).

Inflamed by Lala Lajpat Rai's death in a lathi charge during the Go Back Simon protests, the trio decides it's time for action. One dead cop and a bomb blast later, the three are incarcerated at Kaalapani (no Mohan Lal, no Prabhu... not even Amrish Puri around!).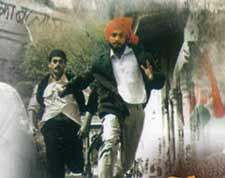 The struggle for equal rights continues in jail too, as Bhagat Singh and gang incite the prisoner crowd into a patriotic frenzy and they all go on a hunger strike. The political deliberations and actions of great leaders are examined here, and one kangaroo-court session later, the three are sentenced to death by hanging. A few more songs later the three are hung. The Brits, afraid of retribution from the frenzied crowd, hack the bodies into pieces and burn 'em up. But the people catch on and in turn hack the Brits up (not all of them, though - some were still left for a certain Mr. Mohandas Karamchand Gandhi to kick out).

The songs keep coming, each and every one of them patriotic to the core. The melody could have been sweeter, and the lyrics a little more sensitive to the poetic meter. Bhagat Singh himself is a study in whittling, as his chiseled features stay the same right to the moment his face is enveloped in that black cloth. The other two comrades however do well. Raju Kapre as Raj Guru is impressive in particular. Raj Zutshi as Azad doesn't get much of a chance as his role is wrapped up in three short appearances.

What the director lacks in finesse and the subtle nuances, he makes up with sheer energy and raw emotion. But for a 70 odd year-old story which is undergoing multiple resurrections, this just ain't enough!