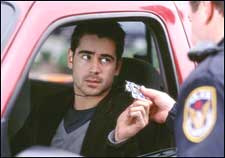 Having seen umpteen Hollywood films, I can safely say that I have a more or less 100% success rate in predicting how a film will unfold after sitting through it for about 30 minutes. The Recruit brought that rate down a bit - it took me 32 minutes to predict the end. But you know the flipside? It seemed so damn obvious that I chose to ignore it.

And that is because the film moves, man! It doesn't move as in move. It realllllly mooooooves, and at a pace that would make you gasp for breath... whenever you get that little breathing space, that is. Oh yeah, "In the CIA, nothing is what it seems." In the film, that is not far from the truth either - except towards the end, but we shall cross that bridge when we come to it.

Walter Burke (Al Pacino - boy has he aged well!) is a recruiter for the CIA. In James Douglass Clayton (Colin Farrell), he sees something that appeals to his 'scary judge of talent' nature. So, he gets him on 'The Farm' - the code word for the CIA training facility - where Clayton meets Layla Moore (Bridget Monyahan). One thing leads to another and the chemistry between the two develops far enough to challenge the 'Basic Principles of Falling in Love' theory.

All seems to go as well as one expects it to go in a place like that until Clayton is asked to leave the facility, only to be told later that he has been inducted as a Non-official Cover Operative (NOC). His mission is to spy on Layla as she is a suspected double agent. Now where did the CIA pull that gig from? Spying on your own people? I thought that was what the Russians did during the Cold War. So much for blaming the commies for everything!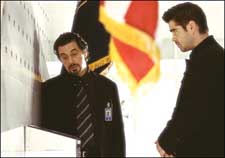 To complete his assignment, Clayton keeps a tab on Layla, and, yay, even gets to bed her. Talk of mixing business with pleasure. But very soon he realises that all is not well and there is more to it than meets the eye. If I told you anymore than this, I would have to kill you. Nah, just that the surprise element would be gone and that would make this flick no different from any other action flick.

What comes as a major relief, though, is the apparent lack of high-tech gizmos. Finally, a film about spies that does not confuse between your normal everyday spies and Bond, James Bond. The performances are all smooth and, going by what the girls think of him, Colin Farrell is hot property now. Like I said before, the film moves at a frenetic speed so much so that that the bag of popcorn remains forgotten. But I guess, to have the hero not battle the ghosts of his father's disappearance/death is going to take Hollywood many more years to accomplish.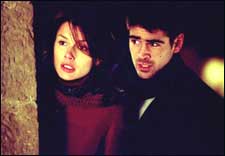 Heard of that fad in the 70s regarding English films? It is said that it was so much 'in' to watch them that even those who did not know 'A' from 'B' did. So, what did they do in the theaters? Laughed when everyone else did, and cried when everyone else did. I didn't know that we hadn't outgrown it, yet, for I couldn't help eavesdrop on this guy remarking to his friend, "CIA mein kaun tha (who was in the CIA)?" And that was when the movie had ended.