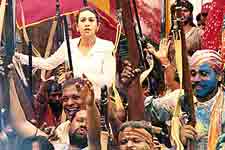 Shakti is a weary and at times frightful story of a woman who just about manages to get herself and her son out of a situation that she doesn't want to be in. The story is a word-for-word copy of Krishna Vamsi's earlier - and superior - undertaking Antahpuram, which was in turn recycled from 'Not Without My Daughter', the true story of Betty Mahmoody's escape from Iran with her daughter. Part-thriller, part-perception-clash-yarn, the film takes advantage of the Indian perception of a barbarian feudal culture in the remote areas.

Nandini (Karisma Kapoor) is happily married to Shekhar (Sanjay Kapoor) in Canada, and gives birth to Raja. They would have lived happily ever after, but Shekhar receives bad news from his home in India, and they are back there. Enter Narasimha (Nana Patekar), the undisputed lord of the surrounding 40 villages and father of Shekhar. Soon the latter is shot at by a sniper (Prakash Raj) employed by his own uncle, an arch enemy of Narasimha.

Now begins Nandini's battle for her son with Narasimha, who wants the grandson so he can have vengeance. How Nandini and her son escape from Narasimha with the help of a Dubai-dreamer (Shah Rukh) is what is dealt with in the climax.

The ending of the movie is a foregone conclusion, but it comes as a blessing after the film's fatiguing game of cat and mouse. The movie loses its very objective due to its overload of unnecessary detail and numerous parallel threads (tranquil Canadian life, love, mother's love, barbarous culture...).

The performances are either overboard (Karisma, Shah Rukh) or below average (Nana). Karisma's performance is a scream, literally. Her character in the movie has much more detail to it than what she actually delivers by overacting, screaming and squealing. One particular blood-curdling scream (or screech or howl or roar or whatever) makes you run for cover (mark our words when we say this)!

Nana's character too had a lot of scope that could have been capitalized on as Prakash Raj did in Antahpuram, but it appears that Nana simply chose not to. We guess he was most likely content with yelling and kicking people. Adding to the mediocrity are the music and background score. The Ash-Shah Rukh item number was clearly uncalled for.

Shakti shall be undeniably up the alley of the barbarian-movie aficionados who haven't had the opportunity to watch the original in Telugu. Also, you'll find the flick agreeable if you doesn't mind endless narrow escapes, mediocre and at times ill-fitting music, and countless lapses in judgment on the part of the lead characters. Finally, if you happened to watch Antahpuram, then an hour into this movie you will find yourself rooting for Prakash Raj (a sniper in this one), in sheer hope that he will kill Karisma too and end it all.