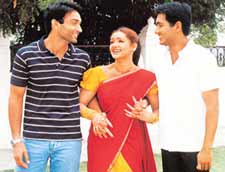 Mishaps, misunderstandings, mistakes, misgivings, misadventures, miscellaneous twists... there are so many 'misses' in Nee Sneham, you may as well give this one a miss and spare yourself this misery. The posters proclaim 'Don't miss the beginning'. That's absolutely right, 'cos the only spirited moments in the movie are the football match in Kolkata and a tour of the City Of Joy that appear before the opening credits.

While the film keeps away from the love triangle (despite the presence of two guys in the lead, and friends at that) and the run-of-the-mill college romance, it fails to do a decent job of the rather novel storyline. The entire story is so convoluted that you wish you took a notepad to write down the sequence of events.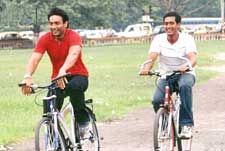 Madhav (Uday Kiran) and Seenu (debutant Jatin, the Vimal model) are jigri dosts and football players of the Andhra Pradesh team. An accident in Kolkata leaves Seenu risking his life for his pal and losing his foot as a result. Madhav, therefore, is indebted to Seenu for life for sacrificing his life and career.

Enter Amrutha (Aarti) in a shared auto-rickshaw, and Madhav's heart does a somersault and crashes into his teeth. He tries to befriend her, but a series of misunderstandings (first round) lead the girl to hate Madhav. She hates him even more when her wedding is called off because of him. Nevertheless, lover boy can't get over the girl and continues to adore her. He secretly helps her overcome her grandfather's death, pay off huge debts tide over several problems in life, etc.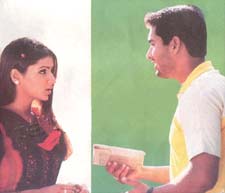 On the other hand, due to another fresh set of mistaken identities (second round), Amrutha is led to believe that Seenu is her secret admirer and decides to marry him, for she is indebted to this low key do-gooder. Madhav is unable to reveal the truth to the girl because he is indebted to his friend and wants him to have the nice girl.

Again, after the third round of misunderstandings, the girl realises she is marrying the wrong guy. It's colossal chaos now, and towards the fag end, the mess is cleared up when they all decide to talk each other sensibly.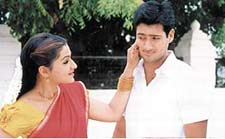 Aarti has a heavy role, but she emotes so poorly that you decide to focus on her appearance instead, only to realize she makes a damn good model for a 'before and after' ad for obesity. If she decides to keep baring her midriff, she better start doing some ab exercises. The charm she had barely a year ago in
Nuvvu Naaku Nachchaav
is completely lost in this one, and her makeup only makes her look worse.
Newcomer Jatin gets a raw deal. He looks plaintive and evokes sympathy. Amidst such a melancholy cast, Uday Kiran stands out (seriously!) because he gets the best role. Though he has come a long way since
Nuvvu Nenu
, he has miles to go before he can smile as an 'actor'.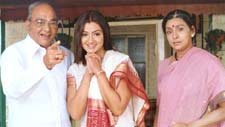 The music is the only redeeming factor in the movie. RP's score, as usual, is soothing and haunting. However, the grim tenor of the movie offsets the other elements.

Watch Nee Sneham, and you don't have to look up the meaning of migraine.