Welcome To The Jungle earns the rating it gets partly because you go there expecting nothing. The promos seem cheesy, and it stars The Rock, who was abysmal in
The Scorpion King
and
The Mummy Returns
. He was universally slammed a bad actor, and this is really saying something for an action hero.
But the movie floats. On a combination of wit and adrenaline, it floats. It doesn't amaze or inspire, but it's worth a few laughs.
Like the lead star, Welcome To The Jungle has an alias. It's titled The Rundown in America, and was called Helldorado by its makers for a brief while before it hit the screens. But Welcome To The Jungle it is.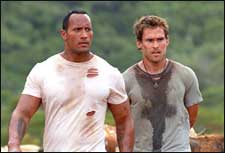 Beck (The Rock, aka Dwayne Johnson) is a bounty hunter on his last assignment. And as much as he hates a life of violence ("Guns take me to a bad place"), he's doing this for the money and for one dream - to open his own restaurant. Unusual, but as good a reason as any other, we suppose. Arnold Schwarzenegger makes a short appearance at the start of the film, presumably to give his blessings to the next man of muscle.

An underworld honcho hires Beck to track down his son Billy Walker (Seann William Scott), who is sulking in the forests of Brazil. Billy boy is working for a manic miner Hatcher (played by Christopher Walker), who is bent upon finding a treasured ancient ritual-piece of solid-gold.

Hatcher's fascination for the relic stems from its solid gold status, whereas Billy wants to find it for academic interest (he's a PhD scholar, they'll have you believe). Another band of people is also very keen on the relic - the native rebels of the land who will fight tooth and nail with anyone at the drop of a hat, and at the slightest provocation.

Into this friendly neighborhood does Beck land, wearing a perpetually perplexed look and, for some reason, a real dandy suit. He doesn't exactly blend in, and the fact that he's built like a steamroller doesn't help. And when he whisks Billy away and plunges into the jungles, he's on everybody hit-list, including a group of over-sexed monkeys. Don't ask.

As Beck and Billy, who manage a strange sort of chemistry between them, make their way into the jungle, they're captured by the rebels. After one pretty cool fight scene, featuring blades and swinging vines, they make friends with the hot-heads, and the duo falls for one of them, Marianna (Rosario Dawson). Luckily, they underplay that whole element. Anyway, Dawson emits enough sparks all by herself.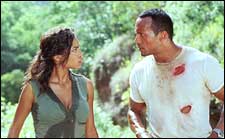 The treasure is finally unearthed, but Dawson tricks our heroes and runs away with it. And once she is tracked down by the evil Hatcher, they feel hormone-bound to come rescue her. And there follows a big ol' showdown, flagged off by the adorable Ewen Bremner (of Trainspotting). After a lot of firing guns, stampeding bulls and naked punches, Hatcher is history.

But Beck has promises to keep, and Billy is still his meal ticket (in more ways than one). So on home to America and an ending you will expect. And while you haven't exactly screamed yourself hoarse in appreciation or wet your pants in glee, you'll have had a good time. After all, have you seen Scorpion King?