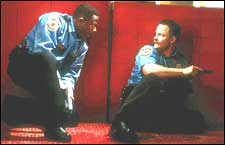 Not all films are meant to attain fame. But then not every film can possibly attain fame. This one is just one of those no-brainers that are not great, but are not insipid either. It is just an average movie that you would not mind watching - albeit on DVD, and if and only if you can withstand the antics of Martin Lawrence.

Earl Montgomery (Martin Lawrence) is a promising prospect at the LA Police Academy before his flamboyance gets rid of the prospect part and the only promise that the future now holds for him is a career with a private security agency called National Security. Hank Rafferty (Steve Zahn) is a straight cop who has witnessed his partner being shot dead, and only longs for the culprits to be brought to justice.

On a normal beat, Earl happens to falsely implicate him in a case involving police brutality. Hank serves six months in prison. When he gets out, he finds that the killers of his partner are still at large. He embarks on a personal mission to find them and it is during this that Earl comes to his rescue.

What follows next could be labelled either bawdy or refined depending on whether you find Mr. Bean a slapstick comedy or the epitome of classy British humour. All Earl does is make life more miserable for Hank by egging him on, secure in the knowledge that if Hank so much as touched him, he could go behind bars again for a very long time. But then if Earl only did that he would be termed mean. And the protagonist can never be mean.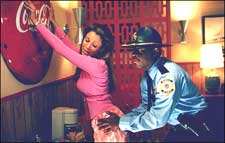 Earl does his bit by saving Hank whenever he is in trouble. He even helps him find the killers of his partner, in the process unravelling a deep conspiracy. In the end, the two become heroes - Hank gets his job in the force back, and Earl is inducted in the LAPD.

Like I said, this is not a bad film. It is just a no-brainer. Some action scenes have been thrown in good measure to compliment the few scenes that are genuinely funny. But a little less of the 'cool dude' stuff from Lawrence and a little more of the 'passionate to get his partner's killers to justice' stuff from Zahn would have been good to have. The direction is just about okay, and the background score appropriate. It is just one of those films that you see on HBO in bits and pieces during commercial breaks of your favourite programmes.

Thank God for the Buddy system in the US law-enforcing agencies. Without it, the number of films Hollywood churns out would probably be reduced to half.