Despite its vivacious name, Holi is perhaps the dullest movie of this year, save for its clean music. An uninspiring, unexciting love story is made all the more lifeless with run-of-the-mill performances and a super schmuck plot. Bearing in mind these things, it can be deduced that the very survival of the movie (and of the unlucky audience) now depends heavily on its star-power (just couldn't restrain myself from using that!), tinkling music and picturesque 'n' splendid songs.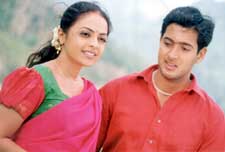 Kiran (Uday Kiran) is born into a family that deems that love comes first and then marriage. Chinni (Richa) thinks just the opposite. One fine Holi-day, Kiran expresses his love for her to Chinni, to which she replies in her own way - marriage first, love next. Kiran is heartbroken, thinking that Chinni is just another career-minded woman. On the other hand, Chinni thinks that Kiran is just another road-romeo who merely wants to go the movies with her. Naturally, after lots and lots of twists, turns, smacks and whacks, the movie ends with both getting engaged to each other (how different! engaged, not married!).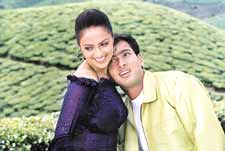 Uday Kiran makes a deadly comeback... to his former Neanderthal form! He seems to have improved in the "mardangee" section, though. Glamour-wise, Richa gives the impression of an angel fallen from the sky. Performance-wise she gives the same impression, but only this time that she probably fell in the wrong way and landed head first. Dr. Sunil (C, C++, Java and Oracle), as he refers to himself in the movie, does his usual distinctive cabaret, and just about manages to meet the expectations of a majority of the audience.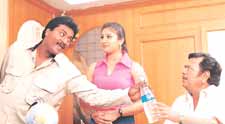 Now given the utter failure of all other crucial departments, it is fair enough to say that RP has given the movie its much required kiss of life. As expected, the music is in general clean, soft and melodious. But given the presence of a mean sub-woofer, the music could also prove otherwise - hard-hitting, with a lot of punch in it.

By and large there is a very fine line between creativity and monotony, and Holi cuts it with scissors. Excluding the clean music, there is nothing but tedium and lifelessness in it. If you started looking up at the stars and matching each one with a reason about why you shouldn't watch such movies, you'll do great till you run out of stars!