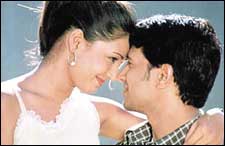 Indian moviemakers would risk anything to make a great movie. They've made films in intense desert storms, bitter-cold mountain avalanches and excruciatingly chaotic streets. All of which have gotten them into the Guinness Book. Not for the movies made, but for destroying more reel than anyone else in the world! But to be fair to this film, it'll be incorrect to call it an addition to that list. Because this is destruction of reel without any storms or avalanches.

An infant is saved from the jaws of brutal superstition by Murali Mohan, who explains to the tribals that burying a kid is not an answer to chicken pox. After 22 years, numerous struggles, many irrecoverable losses and a single frame, that kid becomes Raju (Raja), the college topper - unfortunately, in having the most annoying bunch of friends and in singing stupid songs at pale locations. So the moral of the story is, the next time you see some natives trying to bury a baby alive, grab a pack of Lays and enjoy the fun!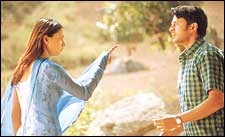 Now, Raju is also a bright student. So he's eyeing the coveted gold medal - in Chemistry and in between the supple body parts of Usha (Gazala). A few cacophonous songs, and they're both so in love. A few more cacophonous songs, and they're on the verge of breaking up. Due to certain circumstances, Usha and her family believe Raju to be a big shot's son. He does try telling her that he's from a tribal village, but his friends mess up the attempt, just like the flick. She soon finds out his lies, and gives him the good ol' heave-ho.

Losing his love, Raju's love for the gold medal is also lost. But Murali Mohan steps in once again to save the day. He drones on about the backwardness of the village Raju is from and how his getting a gold medal will inspire them. Though it doesn't make much sense to us, it does to Usha, who agrees to love him till Raju can achieve the gold medal. And that's exactly what he does. Achieve the gold medal - in Chemistry and in between the supple body parts of Usha.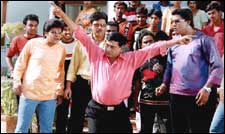 Raja as the lead actor is decent looking and that has to excuse his disability to act. He has deftly improved from O Chinadaana. The comedy track is a little amusing, if not anything else. AVS does a role that Freddie Mercury would be proud of, wherein he's attracted to a fellow colleague - of the fellow sex (Brahmanandam)! This might rake up a few controversies but it also rakes up a few guffaws. The posters and promos boast of a horde of other comedians. All of them certainly play a major part - in the posters and the promos.

Dr. Ramanaidu is generally an ace producer. But I don't know how he missed the bus on this one. The trick is to find a script without the college crap in it. Yeah, sure, good luck! And while you're at it, maybe you can help Shaktimaan find the real killer! The director, Singeetam Srinivasa Rao, has made better movies before. Trying to make college hogwash work, with a bunch of jokers, an unfamiliar lead pair and humour, is a speciality only of - pure luck! If you have it then you can yap about how hard you worked on the script etc. like Teja does.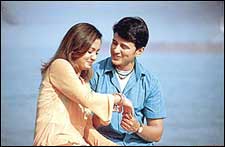 This flick tries to deliver a message or two in the fashion that the crew thought would cash in the registers. But it all looks like explaining the universal quantum physics laws to a drunken Laloo. With big banners making big bloopers, I have no other option but to declare the following:

It is with melancholy, chagrin, compunction and other words I quite don't understand that I must announce that this year has been really sad in terms of quality cinema. And in terms of good quality cinema too.