I could start the review with a "Boom or Bust" pun, but they've all been done to death. So let's just plunge into the nitty-gritty.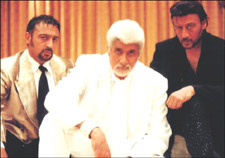 Bollywood has two main categories of directors. The traditional filmmakers define the ultimate movie as three hours of awkward romance, misunderstanding, family values, a Johnny Lever comedy track, stuffy dads, dotty moms, virginal girlfriends and a weepy Shah Rukh Khan. Artsy directors make movies that deal with sob stories of bar-girls or streetwalkers with dying mothers or mafia dons with heart-rending reasons to justify their "badness".

Then there's this emerging class of moviemakers who swear by Nature's bounties. For them, the perfect formula for a movie is to present the female body in the most unfussy attire, with a story-line even skimpier than the clothes. Long ago, when Bollywood hadn't realized that there was big dough in skin-flicks starring models off the ramp, Kaizad Gustad came up with the idea to make Boom. By the time the producer's money hassles were sorted out, half-a-dozen other movies featuring sex, crime and hot-bods sneaked on to the screens, quashing a lot of Boom's intended shock value.

While the nonstop skin show isn't much to write home about, what shocks is Gustad's sheer audacity. He presents never-seen-before (in Bollywood) humor, with brash flamboyance. You don't have to nervously titter at the wit... you can unabashedly laugh out loud.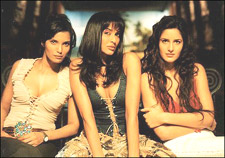 The story is set in Boom-bay, where the couture is hot and the models sizzle. An on-catwalk ego clash between Anu Gaekwad (Madhu Sapre) and a rival ends up in a catfight, and antique Hyderabadi diamonds worth millions spill on to the ramp to be pocketed by all those who can grab them.

The diamonds were supposed to reach Dubai's super-don Bade Mia (Amitabh Bachchan), who wants them back - at any cost. The responsibility lies with Medium Mia (Gulshan Grover), the don's younger brother. Sporting fancy threads and a fancier alias (Cutpiece Saleem Suiting Shirting), he aspires to be a Large Mia himself. He passes the parcel to the third and final brother, Chhote Mia aka Abdul 50-50 (Jackie Shroff).

The assignment could have well been a ticking time-bomb, because it again gets passed to Boom Shankar (Javed Jafferi). Boom holds Anu, and her bootylicious roommates Rina (Katrina Kaif) and Shiela (Padma Lakshmi) responsible for the diamond disaster, and comes up with Plans A, B and C to make them get the diamonds back, or find a replacement. What follows is a harebrained diamond chase from the streets of Bombay to the most expensive hotel in the world, and to a serene island in the Indian Ocean. You don't have to concentrate on the story - there isn't any.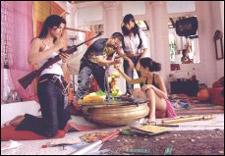 Thrown in for effect are kitschy interiors, wild hair-dos and indulgent shots of the female and male forms, focusing on the upper anterior and lower posterior respectively. There is also plenty of gore. The scene where they slice off a celebrity designer's finger will make your flesh crawl.

Whoever said that models can't act was reading out from the Book Of Truths. Sapre, Kaif and Lakshmi drive that fact into your head without trying too hard. Okay, so no one expected them to act well, so they could have at least cut down on rehearsal time to work on their makeup. Sapre oscillates between looking haggard and overly made-up. As for the other two, well, no one would believe they're supermodels if presented with their mug-shots. They thankfully, do possess perfect eleven figures - but there's too little of it to fill a 120-minute long movie.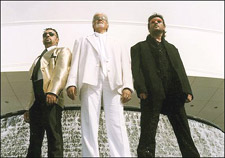 Coming to the rescue are the three dons. Jackie Shroff is his usual debonair self, as a pot smoking titspervert. Gulshan Grover, as his name (Medium Mia) suggests, puts in medium effort and gets medium returns - his character seems unconvincing. The Big B, is... well, the Big B. He could never go wrong with the kind of form he is in right now. He plays an eccentric, cold-blooded, comic-book loving, Bo Derek worshipping mafia kingpin... and only he could give the character so much panache.

Stealing the scene from everyone is rootin', shootin', gun-toting Boom Shankar. Javed Jafferi gets the funniest lines, which he delivers with a pseudo-Madrasi accent. His best scenes are with the models and their kaam-wali, Seema Biswas.

We HAVE to mention Zeenat Aman (she plays Alice, Bade Mia's right-hand lady). After all these years, she's still got "it". The three models aren't a shade on her brand of oomph.

The background score by Sandeep Chowta is extra juicy, and so is the unique cinematography. But in the Hindi version of the movie that we get to see, most of the lines spoken by the models are dubbed by voices that sound uninterested. So we get to hear gems like "Heere, ladkiyon ke sabse wafadar dost." Takes away a lot of the original effect, but then, a good part of the audience wouldn't give a damn about the mismatched lip-syncing or unintentionally funny lines.

Boom isn't meant for purists, preachers, protectors of morals or even perverted punsters. It's merely two hours packed with entertainment and ample doses of eye-candy for the men, and most surprisingly... for the women too.