Once there were an ant and an elephant. Both decided to commit suicide. The ant jumped off a ten-storey building, while the elephant went to watch Wah...! Tera Kya Kehna. Ha ha ha!!! Appalled at the humor? Welcome to the world of Manoj Aggarwal, where the elephant and ant jokes get repeated so many times that you feel like an actual elephant in the Kaziranga Wild Life Sanctuary.

WTKK is a film that makes you acutely aware of every ounce of willpower in yourself. Raj (Govinda) is the semi-lunatic grandson of old Mr. Oberoi (Shammi Kapoor), whose only job is to bail out the overweight heir to Oberoi Industries from every ill-conceived trouble he keeps getting into. These include our hero's unsuccessful attempts at wooing Preiti Jhangiani when wearing a bright red shirt and trousers.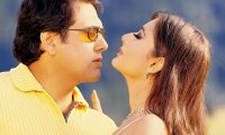 Adding to the cacophony, we have Shakti Kapoor and Kader Khan who play scheming uncles all set to usurp the wealth of the near retarded hero, whose condition, incidentally, is brought about by an accident that takes place in an extremely unconvincing manner. Before you begin to sympathize, the only effect of the accident is to legitimize the IQ that Govinda normally displays in his films - so it's okay, really. Only, in this one he also develops an annoyingly irritating lisp that makes you want to tug at every strand on your head.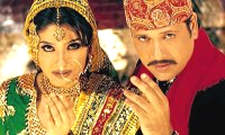 Now before lunacy, Mr. Gaudy Clothes was engaged to the petite Preeti, but to the audience's relief is not able to marry her. Anyway, our tubby hero now goes to some hill station where he is last shown comically rolling down a hill thanks to a 'landslide' that seems to have been called up exclusively for him. The old Mr. Oberoi meanwhile gets murdered, and now enter Govinda in a double role (noooooo!!!!) along with Raveena to set things right (uh... okay!), and does what you wouldn't have thought possible - irritates you further!

The direction is shoddy, the music is poor and the dialogues make you wonder if the writer too was in that accident that retarded Govinda. The Govinda - Preity pair is grossly mismatched, and Raveena is the only one who manages to put up a decent performance. And if you still want to read more about this movie, you really need to get a life.