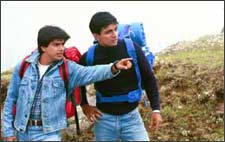 Perhaps the only positive outcome of the slump in the film industry is that filmmakers have been forced to think. "Kahan Ho Tum" (no, it is not a Balaji Telefilms Production ("Kkkkkkahan Ho Tuiim" - thank God for small favours!) is certainly not the stereotypical sort.

For one, it is fast-paced. For another, it has characters that reflect reality - a welcome change from the Prems and the Sanjanas of today. But most important, it is not, I repeat not, a family drama or a wedding video or a boy meets girl schtick. It is one of those films where you go to the theater not knowing what to expect and you come out pleasantly surprised.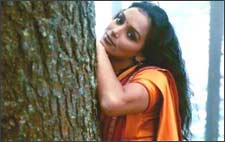 Mansi (Ishita Arun) is a documentary-filmmaker who comes to India from London (why don't Indians in India make films on India? just a thought...) to work on a project with Jai (Samir Soni), a photojournalist. Of course the two of them are in love, but neither has been able to express it yet, a la Mulder and Scully.

She finds out that Jai has been missing for over two months, and embarks on a mission to find him. In her quest, she comes across two of his friends - Rakesh (Sharman Joshi) and Karan (Sonu Sood). How she finds Jai with a little help from his friends is what forms the story of this film.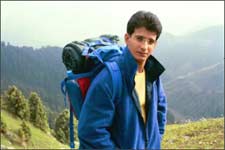 The story is not one of any great intrigue or originality. The treatment is. There is a bit of the Hitchcock in Vijay Kumar as he tells us the story. There is not any needless delving into family backgrounds or past lives. Between moments of high drama, there is also the much needed comic relief. But Kumar takes that a little far at intermission when instead of the normal pictures going still and intermission being flashed, there flashed 'Have a Break'! Hey, I am watching a mystery here, not 'Style'. Also, in the film, flashback is synonymous with one song and two dialogues. Trash the songs, and it would have been slicker and snappier.

However, the biggest drawback of the film is its casting. Not that the actors have done a bad job, but it is the relative anonymity of the lead that would keep the audience from flocking to the theaters.