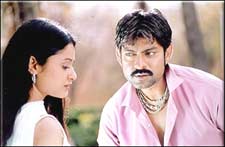 Time they say is precious, which partly explains the cost of an Omega watch. While spending 3 hours, then, should we not get full if not double of what we invest? "Of course" is the right reply, but our filmmakers go one step further, making it "Off course." Off course movies are those that pack the fun of a woozy rollercoaster - unpredictability, buzz and a bucket load of vomit! It's doubted whether these movies will ever make for sensible, self absorbed viewing at all, especially since there are no naked ladies in them! As modern day responsible citizens, we try to tackle all such issues by drinking plenty of beer. So before you dig into Dham, get a six pack and (hic)...

Jagapathi Babu has long established his name in the list of men (including Krishna and Sunny Deol) that could turn heads (and not to mention the contents of one's stomach) with his rusted movements during songs. Consequently, he is allotted a role in this one that needs no activity involving synchronous flexing. He plays Rishi, a yoga instructor! (Glug, glug, glug!) (hic).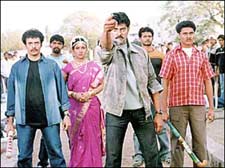 An instructor needs students, and students he's got, all four of them - young, eligible and highly jejune. These guys have problems and look up to their instructor to solve them. Passing wax replicas as humans is a problem for Jagapathi Babu too. So he does the next best thing - helps each one of these guys find a mate. By the time he pairs up these four rejects from Tussad's with four equally inanimate beings, an entire half is burnt up. During these love stories, Rishi (Jagapathi) displays a violent nature whose origin obviously lies in a flashback.

This half of the flick is peppered with guys who think that a polygon is a dead parrot and with girls who think that those guys are so damn intelligent. Looking at their characters, it's surprising that there's no scene showing the guys spraying pesticide on their faces. Their moustaches sure do look like unwanted fungus growth.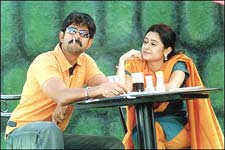 The girls are by no means left behind. They give 'Is that legal?' a whole new meaning. Among all this you have to wonder what Jagapathi's doing. He perhaps thought he could pull a fast one a la SRK in
Mohabbattein
. But all he could manage to pull is a hand full of hair.
The 2nd half travels into the past where Rishi was a hot-blooded rowdy letting his hand do the talking. Opposites attract and he falls for a girl who is dead against violence, against anger, against love... and generally against anything involving facial expressions! Love blooms and Rishi promises to mend his violent ways for her.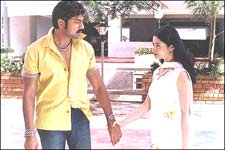 As usual, her dad, the baddie, doesn't like Rishi. Taking advantage of his volatility, he suckers Rishi into butchering a few men in front of the heroine. Believing Rishi to have changed and looking at him with a weapon, the heroine's shocked. (Although it doesn't show, we assume that she is, for she refuses to marry him.) Thus we have the current day scenario with Rishi joining yoga classes for anger management.

This half is slightly saner since it has Jagapathi in most of the scenes. When a movie is meant to have multiple stories it is but logical to have decent actors in the characters, not creatures from Star Trek! Jagapathi obviously gets the heroine in the end, but he gets nothing else, at least from the audience. Nothing complimentary that is. (hic)