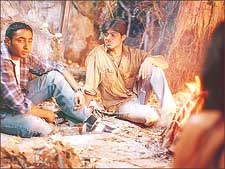 What would you do if you were stranded on a highway, darkness and dense forests engulfing you? If you're a group of bubblegum chewers, you'd do what a normal horror flick does - find a spook villa & wait for your turn to hell. If you're a normal male you'd be doing what he usually does - make plans on doing tribal women! However, this one has a group of teenagers and they find their spooky joint too, but that's about where the cliché halts. The rest is 2 hours of cinema that follows no pattern, no order or no straight line, just one gripping script.

Stranded in the middle of nowhere, six teeny weenies (Gaurav, Piya and Samina Reddy are the only familiar faces) have no option but to wait for sunrise, when perhaps they can be rescued. Till then they decide to spook out each other with tales of another kind. The kinds we read in unsolved mysteries and the kinds in The X-files before they blamed it all on the aliens (apologies to Pamela Anderson, George Bush and Michael Jackson).

Anyway, the parade of the plethora of stars begins with the first story: Sohail Khan and Antara Mali are on an empty highway when their car breaks down. The eerie silence already creeps up our spine when suddenly Sohail disappears. On his trail, Antara rambles into the unearthly wilderness stumbling upon some... slick sound effects. What happens to Sohail? Bolna mana hai.

The next story in the order that I remember is (it's difficult to remember things normally itself, so excuse me if I cannot remember while trembling) about a school teacher (Raghuvir Yadav) who's used to caning this child for not producing homework. One day he's ready with his cane when she produces her homework. The teacher's shocked, and from that day onwards, she does her homework regularly. This drives the guy mad and he even consults the child's mom (Revathy), but cannot explain his predicament. Why's the homework driving him nuts? Bathana mana hai.

Another one of the stories is about Shilpa Shetty and her apples... ahem, I meant Shilpa Shetty and the vendor's apples. Oops, that sounds even bawdier. Let's just stick to Shilpa and her apples. (Pun unintentional. Sorry Geoffrey Boycott.) Okay, so this one's a little too silly, I should say. Shilpa gets these apples from a vendor who's suspiciously evil. Her husband and the rest of the town disappear after eating them. As I said earlier, the director should've just stuck to her apples.

In the meantime, between these stories a member of the group finds an excuse to get alone and, consequently, get dead. The others continue, assuming that the missing person is perhaps back in the car. So the stories continue.

Saif Ali Khan finds himself in this motel that has No Smoking signs everywhere. The psychotic manager (the guy from the KrackJack and Nokia ads) is adamant that Saif not break the rules of not smoking. Not even outside the hotel. How does he manage to make a chain smoker to stop smoking? Kehna mana hai.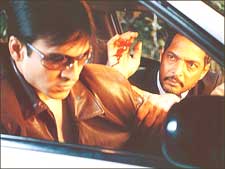 This one is perhaps the best story of all - the one with Vivek Oberoi and Nana Patekar. Nana is hitchhiking near a cemetery when Vivek comes along. Nana hops into the car and, in the course of conversation, reveals that he's not exactly a living being. Laughing it out in the beginning, Vivek is shocked when Nana lets him feel the bullet in his body. What does a freaked out Vivek do? Revealing mana hai.

The last tale from the crypt is about a loser named Aftab Shivdasani. He's a loser in the movie, silly. An outright reject by all, he develops a power to stop time, and the tale's how eventually it stops him.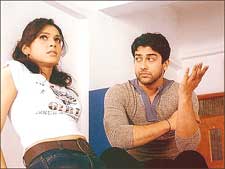 By the time these stories are done, only 2 of the friends are alive. Does the killer get to them too? You got to see this to know. Actually you got to see this for many reasons - brilliant performances (yes, even by Mr. Aftab), great editing work and superb screenplay. The reason why this one has been hauled back from being called a classic is because of a lack of connectivity between all this. The ending to the murder mystery is outright laughable. But on the whole, it's a good thing that one cannot hear trembling, because if you could, that's all you would hear in the hall. Despite the fact that Darna Mana Hai!