Three guys, a woman and an almost Utopian prison... these are the five elements that vie for top billing in 3 Deewarein. There's an underlying struggle for one-upmanship between them all through the movie, but ultimately each one of these five elements manages to hold its own.

The film is set in a jail that breaks all clichés - there is no tyrant jailor, no pot-bellied-pan-chewing-constable, no sookhe rotis in aluminum plates and nuh-huh, not even bug-infested cells locked with deadbolts. What we do have is Mohan (Gulshan Grover), the jailor with who doesn't mince words and has a heart of gold; prison food, with sambar that surpasses even the kind brewed at home; and one large common dorm for all the prisoners with a picturesque view of the full moon - every night!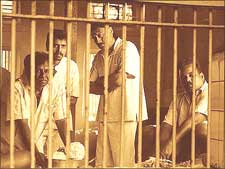 Inside the teen deewarein (and one iron gate) you'll find the home to an eclectic mix of convicts - among them, best-buds Jaggu (Jackie Shroff) and Nagya (Nagesh Kukunoor). Jaggu is a refined and articulate lawyer spouting English poetry (no, he doesn't quote from Shakespeare - he writes his own verses). An unlikely friendship springs between him and Nagya, a Hyderabadi-boy-next-door who worked as a clerk before he was sentenced to the slammer. The two are joined by the suave Ishaan (Naseeruddin Shah)... a superb smooth-talker who could just probably convince Dubya that there's such a thing as intelligent decision-making.

What brings the three of them together? Well, they're the only three inmates who have been sentenced to death - Jaggu and Nagya for murdering their respectively adulterous and nagging wives, and Ishaan for a murder during a bank-robbery.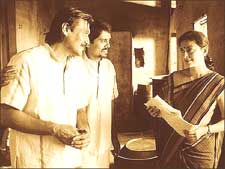 After a dark and stormy night at the prison, a slice of sunshine enters their lives - in the form of Chandrika (Juhi Chawla), a documentary film-maker. After a quick-fix deal with Mohan, Chandrika sets out to capture candid scenes from the lives of the prisoners. Taking particular interest in the three who are waiting for the final day to come, she manages to win their trust and make them confess to her their true stories. Well, almost.

The story unravels in the style of Pulp Fiction, but there's no further resemblance. Every character is underplayed - so much so that you forget that the characters are being assayed by established stars like Naseerudin Shah and Juhi Chawla. Kukunoor charms with his eminently identifiable Hyderabadi lingo and a heart-warming 'Satyameva Jayate'. Shroff takes a break from his usual gun-toting antics and impresses as the convict with a passion for cooking but no passion to live. Two members of the Lagaan cricket team - Aditya Lakhiya (as Mallik, a mentally-disturbed convict) and Vallabh Vyas (as Chandrika's cruel husband) - make notable appearances.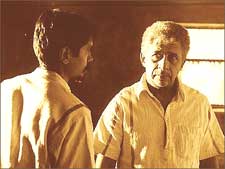 Chawla sans make-up and her high-pitched giggles breezes through her role. Shah, however, steals the show from right under her nose. His character swings between suave, subtly comic, understated heroism and Machiavellian wiliness. No one can quite help falling in love with Ishaan - we think Chandrika did, too.

This slickly paced two-hour flick has 'em all - emotions, drama and, best of all, muted humor (and even better - no songs to slow the pace). In his very first Hindi movie, Kukunoor has done what he's been doing all along in his English flicks - charming, impressing and, to an extent, surprising movie-goers. If you're almost brain dead thanks to all the movies that have been assaulting you lately, watch this movie for guaranteed revival.

And for all those of you who're thinking that this is a kiss-ass movie review for Kukunoor who's the Hyderabadi connoisseur's blue-eyed-boy, think again. 3 Deewarein is definitely worth checking out - if not just for Kukunoor, then for the jaw-dropping twist at the end.