Deep (Suri) and Shanti (Chawla) are happily married. They have a daughter, Muskaan, and are 7 months into the next child. Rishi (Bose) is Deep's brother, and very close to the family. Right now, though, he's having trouble with his wife Nicky (Khanna) and they are on the brink of divorce.

Deep and Rishi work together in an advertising firm, but their main engine oil in life is the Jhankaar Beats music competition. It's the major topic of discussion between Deep and Shanti and the major topic of frustration between Rishi and Nicky. And oh yeah, they haven't won in like... ever.

This is about the first 15 minutes of the movie, and after the next 15, you begin to wonder what's holding the story together. There are some random shots of a lost bunny Shayan Munshi at a bus stop, and the story is looking interestedly at side gallis, itching to go off track. Small ha ha value gimmicks like Deep's mom-in-law (Shashikala) coming over, horny Harry and his girlfriend in the flat above, and the Parsi neighbour auntie sort of fill up the blanks.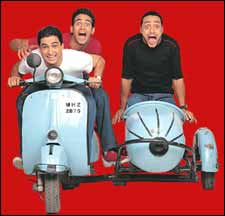 At a club show one night, Rishi and Deep find themselves a guitarist short, and Neel (Munshi) jumps in. Neel is introduced to Rishi and Deep's reverend father in ragas, R D Burman, whom they call 'Boss', and the trio's journey towards the competition begins. Turns out Neel is the other two's ad job boss's son, and gets thrown into a condom ad campaign with them.

Together, they try to get Neel to confess his love for Preeti (Sen), and this makes for some further laffs and general golmaal. What happens to the three couples and the severely understated music competition forms the rest of the meandering plot.

The best part is Juhi Chawla - she looks absolutely radiant and carries herself with aplomb. Rahul Bose is as only he can be, but whatever it is he does, he's reasonably good at it. Playing the fool comes naturally to some... can't blame them really. Sanjay and Rahul try desperately to forge some chemistry in the first half and the effort, sadly, shows.

In fact, the whole effort seems to move like Rishi's ageing 4-wheeler - in fits and starts. For example, debutant Sujoy Ghosh decides at one point that Deep and Shanti are looking too comfy and gives them an impromptu, out-of-character spat over a minor issue. Then it's gone in 3 minutes with a song! C'mon dude, if you're going to make something different, at least make it believable.

While the lead foursome are good in their roles, it's the babes in the Bollywoods Shayan and Riya who seem to be following the wrong trail of acting crumbs. Shayan looks reasonably cute - or so I thought. Pooja* sitting next to me didn't think he was all that hot. Poor Shayan - he tries but that there was his last lifeline going phussss.

Riya needs major diction lessons - she looks and sounds like she's stoned immaculate throughout all of her... three scenes. While she's at it, she might as well take the complete package and pay a visit to the acting classes too - sometimes her expressions are so vacant, the Bombay Builders' Association can build some flats in between her dialogues. But she dances okay, though... and she's fit! Some have built careers on those talents... guess time will tell.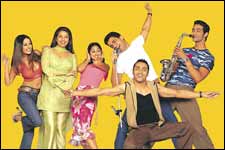 Coming back to the film, it has enough laughs to carry it through, but it's almost tediously long. And it suffers a sizeable
Dil Chahta Hai
hangover, without even a fourth of its happy high. Sujoy has used some good cinematographic techniques and the songs aren't so bad, especially the one sung in the church to woo Preeti. All in all, it's a feel-good film, and those are like water these days - severe shortage!
In spite of obvious goof-ups, Jhankaar Beats is worth your while.
(*working name given 'cos I didn't get her real one!)