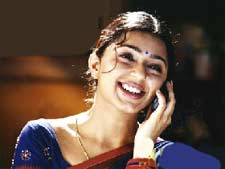 If you believe that there are at least three things that we can learn from anybody and anything, here are the three key inferences from Roja Poolu: a) The hottest career right now is selling teddy bears, b) Even a mutilated Rs. 50 note can change lives, and c) If you fall head over heels for somebody, make sure he/she has good (looking) friends.

In addition to this, there is zero that Roja Poolu offers in terms of novelty, which makes it a total of zero that it offers. It does offer loads of sentiment, but we are trying not to think about it.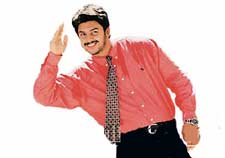 This flick was a whammy of a hit in Tamil that has hence has been dubbed into Telugu, based on the assumption that what is good in the land of sambar will be equally palatable in the land of biryani. But since the trend now is breezy love stories, this heavy-duty senti stuff may just not work. Anyway, keep your lachrymal glands in standby mode, and we can take off.

Whenever Arun (Sriram) sees Mano (Bhoomika), his heart goes kuch kuch hota hai. He flips for her in the first instance - considering that this happens when she is on the sixth floor balcony and he on ground, you decide there must be something to that "love is blind" adage. He meets her again when she hands over a Rs. 50 note for an autorickshaw ride. This note is as crucial to the movie as Scruffy the doggie was to Hum Aapke Hain Kaun.

Thankfully, Arun has an ultracool new-age mom (Radhika) whom he can just walk up to and say, 'Hi mom, me in luuuuve!" But just when he's set to confess his love for Mano, his best friend (Aakash) butts in to say Mano is his girl. Ouch, men and their friendships!

Arun must sacrifice his love for his buddy's sake. He even risks life, image, reputation and all related things for his buddy when he kidnaps Mano because she is compelled to marry some jerk. He is forced to play the hero and rescue the girl, especially since Mano's guy is stationed in Libya.

Now, Arun's and Mano's folks chuck them out of home for messing up the wedding. So the duo moves together for a live-in. It's purely platonic, mind you.

While Aakash bides time in Libya, Mano pines for him when not boiling milk or mopping the floor. Arun is content admiring the Rs. 50 note when not doubling up as a teddy bear salesman. In one year flat, he becomes the MD of the company. We thought that kind of thing happened only in the movies - well, it apparently doesn't, for this is still a non-movie. Anyway, Aakash returns, and expresses his inability to marry Mano.

Debutant Sriram puts in a decent and tempered performance as a jilted lover. Bhoomika has a meaty role and fares better than in Kushi. But it's the Rs. 50 note that wins thumbs down. The songs are hummable, but their timing is all skewed. And director Sasi puts so much sentiment that at the end of the movie, the 'Say no to gutkha' poster in Devi actually cheers you up!

The film will appeal to the cast and the crew (primarily), kids below 5 (but excluding Amisha Patel since she doesn't understand Telugu) and everyone else with a weird sense of humor (but again excluding Amisha Patel for the same reason). Okay, to a lot of women, too - but this strictly 'cos I can't be called chauvinistic!