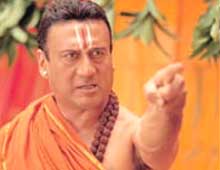 Agni Varsha carries with it an inherent message - believe in yourself for who you are and what you are here for. Predominantly derived from a play of the same name by Girish Karnad, which was in turn derived from 'The Myth of Yavakri', a part of the Mahabharatha, this adaptation of Agni Varsha is very impressive for the reason that rather than going the usual sweet Cinderella way, it draws the characters as people who we'd actually relate to. With no exception the characters are compelling and the cast gives a terrific performance. Sajnani's treatment is consistently breathtaking, and is delicately complemented by equally spectacular music.

Paravasu (Jackie Shroff), the eldest son of a great sage Raibhya (Mohan Aghase), is appointed as the chief priest by the king to perform a mahayagna for seven years and please Indra (Amitabh Bachchan) to bring rains to the parched lands of their drought-ridden kingdom. Owing to this, Paravasu invites the wrath of both his father and Yavakri (Nagarjuna), his arch rival.

Yavakri, the ex-lover of Visakha (the wife of Paravasu), to get even with Paravasu's family for the injustice done to him and his father, tries to seduce Visakha. In no time Visakha (Raveena Tandon), starved (and ruthlessly abused by Raibhya) for such materialistic pleasures thanks to the absence of Paravasu, gives in to Yavakri's attempt. Raibhya, outraged by Yavakri's attempts, sends out a brahma rakshasa (Prabhu Deva) to slay Yavakri, which the latter does in no time.

The film climaxes with Aravasu (Milind Soman) sacrificing the life of his love, Nittilai (Sonali Kulkarni), in favor of the salvation of the brahma rakshasa's soul and rains for their parched kingdom. Ideally speaking what happens at the end should not be revealed, but here you can see it coming, though not in any way annoyingly predictable but more in a way that is tragically inevitable.

Jackie Shroff, despite his short span of onscreen appearance, comes out gleaming in the role of Paravasu. Sonali Kulkarni as an audacious tribal lass is a hoot, as you would have thought. Milind Soman, as a coward-turned-gutsy-brahmin-lad, is impressive as well. The onscreen chemistry between Sonali and Milind 'splendid' for the reason that their dialogue is crystal clear and their body language, just what the doctor ordered - perfect. Lest I forget, the exchanges of words of obsession between Nagarjuna and Raveena Tandon, which appear seething on the surface, are terrific as well.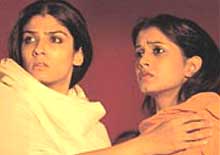 Noteworthy is Sajnani's delightfully distinctive treatment of relationships. Agni Varsha captures like a dream, the youthful fumbling of Aravasu and Nittilai, and then moves on to contrast these first thrills with the marriage of Paravasu and Visakha that has become virtually passionless. The lives of both the couples are given just about equal weightage, and are interestingly contrasted and paralleled.

'Agni Varsha' will linger with you long after the credits have fallen. In a way, Sajnani manages to create a world that is psychologically insular, almost claustrophobically so, which fits in with the characters' situations. Yet it is a world that is so expertly realized that it seems real, and the viewer feels part of it for two hours, and longer. If you're going to watch only one distinguished movie this year, go watch this one.