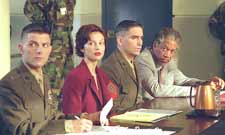 One of the biggest heartbreaks for Indians of watching a US courtroom drama is the alacrity with which the system protects civil liberties and the swiftness with which verdicts are delivered. High Crimes rectifies at least half of this - it shows the US Army's hegemony over civil rights, which the Marines blissfully misuse, thereby creating a premise that any studio executive in Hollywood would jump at, and which almost by implication usually isn't good news for the connoisseur.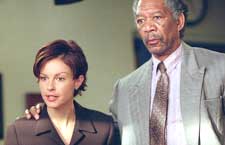 After the first time in Kiss The Girls, Morgan Freeman and Ashley Judd are back to being grossly misused in High Crimes. Doubtlessly among the cream of Hollywood actors today, they are also directed in this one by perhaps one of the best directors of the US tinsel town, Carl Franklin, but genius shows best in situations that demand it, and High Crimes is just another legal thriller gone haywire. Made strictly as value-addition for popcorn, it doesn't have anything original, and simply doesn't need actors of the caliber of the two.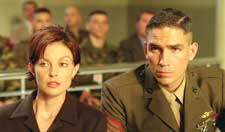 Adapted from a novel by Joseph Finder, the film stars Ashley Judd as Claire Kubik, a super successful yuppie Bay Area attorney reveling in happy marriage to Tom Kubik (Jim Caviezel) in scenes that are screaming looming tragedy. Sure enough, Tom is captured by the Marines in a violent detention and whisked off to Southern California to be railroaded to the gallows on charges of mass murder of 9 civilians in El Salvador 14 years back in a special ops shoot-out. It comes across that Tom is in fact Ron Chapman, a Marine who went AWOL after the incident and eventually got married to Claire.

Claire follows him, and realizing that a guilty verdict in the court-martial would mean certain death penalty, that her civil attorney skills are inadequate here, and also that the callow Lt. Embry (Adam Scott), the counsel for the defense assigned by the Army, is unlikely to be able to stand up to the bulldog prosecutor Maj. Waldron (Michael Gaston), enlists the support of "someone who's beaten Waldron earlier, and is hungry to beat him again".

No prizes for guessing who that is. Charlie Grimes (Morgan Freeman) is a brilliant ex-Marines lawyer thrown out of the Corps for irreverence, a drunk on the wagon, and an extremely good portrayal. And when he teams up with Claire to save Tom, it is excitement for the better part of the film as they take on an Army that is fiercely protective about its secrecy and its lies. But in its enthusiasm for keeping you on the edge and guessing, the flick uses too many plot twists and red herrings, and ends up too wild.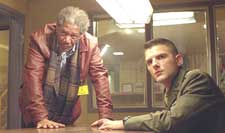 Morgan Freeman is excellent as a warm, avuncular and almost omniscient attorney who you are thrilled is on your side. Ashley Judd as a spunky and go-getting yet vulnerable woman delivers a good performance, too - better than the movie warrants, at any rate. Among the others, Amanda Peet as Jackie, Claire's frisky sister, is tolerable, as are all the army sorts who are so military-type, it's like they are not acting at all.

One remarkable thing about the film is that it was made post-Sep 11, and yet took on the Army, a US institution - a sure sign that the screenplay was done before that. And considering that it did fairly well, it shows another thing about the American psyche - that the studio executive knows it better than all newspaper editors.