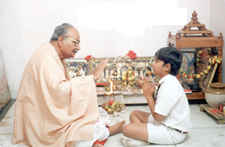 KKK is a movie that tries intensely to pass on a social message (importance of quality-time, and value of mother tongue) despite the fact that it is loaded with inane brightness, an uncalled for duet, and extra loud songs.

Viswanath, a multi-millionaire, loves his grandson Ravi more than anything in his world. One fine day he gets hauled over the coals by his daughter-in-law, for Ravi will not listen to anyone except Viswanath. Seeking solace in solitude, he decides to stay elsewhere.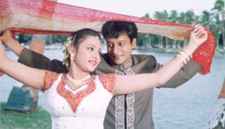 There again he meets some lovelorn children and makes good friends with them. But as fate would have it, he gets rebuked by the parents of the children for their kids will not listen to them either. Then there is Viswanath lecturing the parents on the howlers perpetrated by the parents and how it affects the respect, love and confidence the children have in them. The flick ends with him being pleaded to return to Ravi and other children. Subuck subuck, I'm all tears.

Now, the solitary reason that yanked us towards watching this one: it starred K Viswanath. As usual, he turns in a brilliant performance as a grandpa. He's never disappointed in any of his movies, counting this one. However, his fineness more or less proves to be detrimental to the sense of balance of the movie as he effortlessly takes the limelight and puts the sidekicks in cool shade.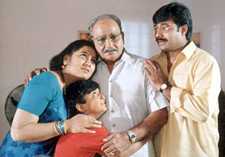 The movie indeed has an excellent theme. But the problem is that it does not have any interesting characters in it with the exception of Viswanath himself. The Rule of Thumb for Movies says that if a movie is without any distinct characters that are interesting, then the director has to be extra careful in setting up scenes and the script must be extremely good, else the audience is sure to lose patience. This one sure did in my case.

All in all, the script is the most important thing in this genre of movies, and that is precisely what kicks the bucket in this. Most people will dismiss KKK for being recklessly over the top; a few others may like it for its mix of slapstick comedy and homespun family values.