When a filmmaker is generous enough to warn you with a profound and suggestive title and you choose to ignore it, it's not his problem. (Heard in the theater during credits: Soch is a four-letter word?)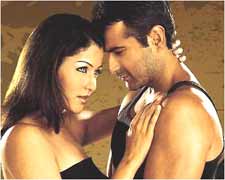 Soch pretends to be a mystery movie, but in reality it's a fantasy movie, where the entire cast is trying to live up to their fantasies. For starters, Sanjay Kapoor plays a mega successful filmstar who churns out hits by the Friday and makes it to the covers of the ragmags. Raveena successfully dates an actor and even manages to tie the knot. Anjala Jhaveri, who has gone stone cold after her last hit in the last millennium, gets to do an item number. How we wish the audiences too lived their fantasy of watching a sane movie! Soch also falls in the historic genre, because the star cast is ancient, almost antique - from Sanjay Kapoor to Arbaaz to Anjala.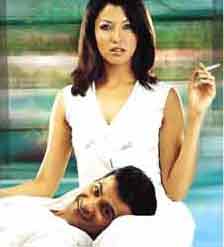 Raj Mathews (Sanjay Kapoor), despite his success as a star, goes around with the disposition of a dyspeptic rattlesnake. Reason: marital problems with his suspecting, paranoid wife Madhu (Aditi). Raj's director and good friend Preeti (Raveena) is the bone of contention here. Madhu accuses Raj of having an affair with Preeti. After a handful of squabbles, over-the-top scenes and swearing, Madhu is murdered, and Raj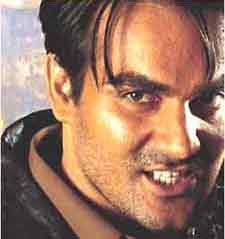 No need to bite your nails and chew the straw here. The culprit is Om (Arbaaz Khan), a psychotic fan of Raj. He can do anything for his favourite star, even rub out the actor's wife. The psycho kills Madhu just because Raj once mentions his marital problems to Om and casually utters, "Kaash, agar meri patni mar jaati." The hair-brained psycho takes Raj's words at face value and murders Madhu.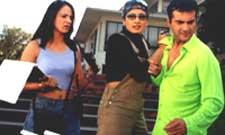 Now Om's only demand of thestar is that in return for this favor, Raj should kill his dad (cop Nautiyal, played by Danny Denzongpa). The details of why Om wants his dad killed are boring, but it suffices to say that dad treats that psycho shoddily because he was responsible for the death of his younger brother.

Now, Raj has to contend with the cops asking him inane questions, the paparazzi who want to write cover stories, Preeti his troubled sweetheart, and Om the lunatic who keeps reminding Raj about the "deal". How Raj manages to tide over the crisis and still sing a duet with Raveena in the end forms the crux of Soch.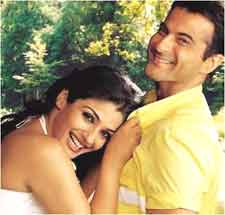 Arbaaz, as the psychotic and a diehard fan, is the only one who has a decent role. The rest of the cast is miscast. The plot has so many deep cavities, you can actually hear your echo if you whisper in the theater. The director does not explain how the psychotic manages to enter high-security zones, why he works for an amusement park, why Raj can't act like a grown-up, why Raveena sports a ridiculous butterfly tattoo...

(Heard in the theater as the curtains went down: She sells seashells by the seashore. The sach about soch is that it sucks like a soggy sock...)