Top-notch suspense stories are a commodity that filmmakers continuously try to produce, but rarely succeed. It is rare to bring together a plot without holes, a script that sounds honest, and performances that leave us convinced it could have happened. And if you can also in some way turn your back on the fact that Humraaz is an Indian adaptation of the resurrected Frederick Knott's classic "Dial M For Murder", it's a treat to sit down to watch it, with the communiqués between the three key personas of the movie keeping the love-odium-payback cyclic cistern blistering right till the end...

Karan (Akshaye Khanna) is a ruthlessly ambitious guy who wants more from life than is deserved. And Priya (Amisha Patel) is a lovelorn female craving for puppylove. Perceptibly, Karan and Priya fall in love. Then on one fine day, Karan's dance troupe learns that they have qualified to perform on a star-cruise ship. With high-hopes of earning big bucks, off they go on the star-cruise from one place to another.

Raj Singhania (Bobby Deol), a suave and sophisticated multi-millionaire, is the owner of the star-cruise. The very dreamlike moment Raj sees Priya, he is head over heels in love with her. And he has no clue of her affair with Karan. Soon, it amalgamates into Priya too falling for Raj's candor and splendor.

Scrutinizing these budding developments between Priya and Raj, Karan begins to panic. And then, to add to Karan's woes, Raj makes up his mind to marry Priya - and to our amazement, she happily responds, conveying her concord for the marriage!

Now what? Karan is swelling mad and swears revenge. Then on, the web of trouble that begins to envelop these three is multifaceted, and changes at almost dizzying pace. Each and every plot twist puts the film at risk of losing credibility, but luckily every single one of them holds together. From time to time it is sometimes hard to know who's really in charge of things, and that sure makes us sincerely want to find out.

The plot is so strong that it easily outshines the performances. Nevertheless, Bobby seems plausible in the shoes of an angry urban executive. Amisha is convincing as the flawed but well-intentioned Priya. And Akshaye Khanna's performance as the crook is admirable and true to life.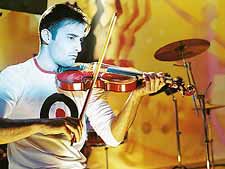 The talent of some composed onstage performers (Akshaye Khanna) and groovy backstage artists churns out this lushly film. Money seems to have been of no object, and it shows in the movie, the photography of Ravi Yadav and the art direction of R Verman.

Sine qua non? Worth watching if you wanna get the drift of how the rich live, and to drool-n-dribble for that kind of ambience! Also have a go if you happen to be a gargantuan aficionado of thriller-killer movies!