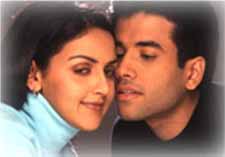 Kya Dil Ne Kaha is a mysterious movie. The mystery part of it takes off right from the word "go", since you can't ever be sure of what the real intention of making this movie was. How can anyone be sure when a whole bunch of people on the screen indulges in doing something so pointlessly hideous that you wish you had never been born - or, if you are a clearer minded thinker, that they had never been born? I could find solace only from the existence of bigger mysteries like Uday Kiran taking home the Filmfare.

The movie opens with a family as large as the Indian cabinet sobbing for its laadli ladki Esha (you-know-who), as she gets packing to New Zealand for you-know-what. Unfortunately, she doesn't manage an admission into the you-know-it's-lucky college she had pinned all her hopes on.

Like you guessed, things are all set for Rahul's (Tusshar Kapoor) timely entry as the college publishes its annual results. We are never told what is taught there, but it's anybody's guess that it sure did include "The art of smooching after a tiring jog", "The art of smooching after a tiring booze session" and "The art of smooching after a tiring smooch".

The dumb guy that he is, Rahul has to cheat his way through his exams. He acts dumber and confesses his sin, but the college principal mistakenly thinks that he has proven what an honest guy he is, and is overwhelmed by the honesty of all Indian students at large.

This fetches Esha her oh-so-longed-for admission, and the very next moment she is all over Rahul. Thus begin the grossly physical interludes between Rahul and Esha, first under the garb of "friendship", and then progressively under "love".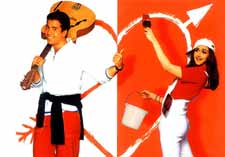 The two families are promptly summoned to legalize all their mucking about. Unexpectedly, the families reach accordance sooner than what takes the mother of all ammas Jaya to switch a stance. But before you can feel relieved that it's all drawn for a close, you get to the bizarrely insane 'twist' of the story.

After being giving sufficient time to recuperate from the startling revelation by Rahul that he doesn't want to marry Esha in the angelic form of an intermission, you go on to see Rahul declared to be a son wronged by his parents. The imprints left by his ever-bickering parents on his unsullied conscious set a mind block against marriage. And after an array of unabashedly idiotic filmi situations and the customary leaving-the-city thingy, Rahul and Esha became a part of the world's oldest institution. So much for that.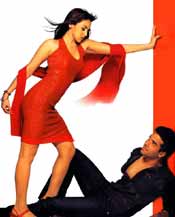 We needn't get into the technical details of the making of the film for the staggeringly straightforward reason that none exist. We probably need to talk about the new entrants Tusshar (at least relatively) and Esha, since nothing much has been told about them as yet. Thankfully, nothing much needs to be told about them either, other than the fact that their capacity to emote would fit in a mini-sized match box - with all the matches intact.

I've been told that this was a much-awaited and much-hyped kinda movie, but however much bullish you'd have been about this flick (before its release, that is), I bet you just can't bear this one.