Just Married is quite typically what comes out from the very bottom of the barrel... but sometimes scum is nice, and personally I'm all for good scum. Just Married is tasteless and fairly offensive at most parts, but quite frankly, like I said, sometimes scum is nice.
From the moment that Brittany Murphy makes her appearance on screen, 'perky' is the one word that flashes between your eyes. With mega (gravity defying, custom-made) melons, this is eye candy all the way for all the dribbling males. But we think Ashton Kutcher is 'kute'! And if you haven't been through your rites of passage, then Kutcher is the lovable idiot that's Kelso in 'That 70's Show' and the supa-duh-dork in
Dude, Where's My Car
?

Kutcher and Murphy twin up in Just Married - a loll in the park full of so many mindless giggles, you'd forget if you ever possessed any grey cells that were wired up in the right places. Tom (Ashton Kutcher) is a ratass radio traffic announcer working to be a sports wag, and Sarah (Brittany Murphy) is a Bel-Air babe with bucks coming out of her blonde head. When, through sheer providence, they get together, they're like a donut plus some really extra sprinkles of sugar - and then, as they would have it, the wedding bells start to bong.

The pair pack off on an all-expenses paid trip to honeymoon in Europe, only to realize how hopelessly mismatched they might just well be. Added to their disastrous honeymoon, they also have to contend with Murphy's ex-flame, who, like Air Pakistan curry, is out to completely spoil their fun.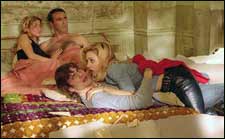 Just Married takes off on their misadventures, and rakes up some really implausible but often hilarious sequences. One such part is the Italian bed banging sequence that has you howling like a hyena in heat. The comic sequences are superbly inane, and if you have a taste for the daringly dumb, you might just love the movie.

The scriptwriter didn't exactly set his typewriter on fire as he pelted out this flick, but you have to give him credit for squeezing out the comic potential in every scene. Maybe he took this a bit too far and threw up a few lemons, but he seems to have gotten ahead with the giggles too.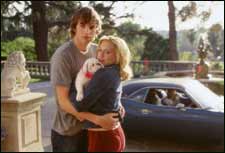 Ashton Kutcher, with 'American' stamped all over him like a federal seal of approval, is mostly one-dimensional. But playing dumb seems to come so natural to him, it would be a shame to waste him any place else. Brittany Murphy tries hard to be cute-as-a- button. And if you were wearing what she does all through the movie (a white shirt ten sizes too small for her), buttons would be the first thing on your mind.

Anyway, Just Married won't have you hanging on to your tickets like a Gucci handbag at a 75% off sale, but heck, it's well worth a trip to the mall.