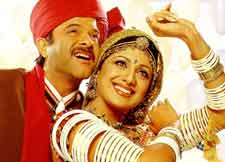 Mummy! It's a bolster, it's the incredible hulk... Relax sweetheart, it's just Anil Kapoor in a rubber suit. And isn't he looking silly! Kapoor tries a superman act, and pants and heaves as he tries to carry a whole movie on those padded shoulders. Pfft goes the rubber suit and pop goes the movie.

Have the story first. The Chaddha family (C-family in short) and the D'Souza family (that's right, the D-family) are arch rivals. Once upon a time the C-family daughter and the D-family son eloped, and so the leftover antiques and the rest of the furniture are still fighting. Amrish Puri forms formidable head of the C-family, countered by matriarch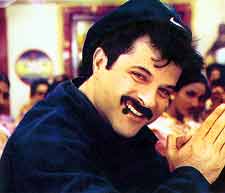 Rohini Hattangadi of the D-family. Enter Raja (Anil Kapoor: deflated version) who claims to be the son of the runaway couple. He starts pouring oil on waters that have a 25-year-old troubled history.

Enter Banto (Shilpa Shetty), who tries an Anamika act on Raja. Raja has more sense than Sanjeev Kumar, and so corners her on suhaag raat and demands conjugal rights. She admits she is Banto, single and unattached, daughter of C & D eloped couple. So Raja and Banto are siblings, we presume. No! Raja is an impostor. And now the fat is in the fire!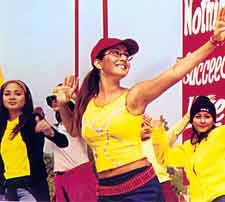 A few months back Raja (Anil Kapoor: inflated version), fell in love with Florence (Keerthi Reddy) of the D-family. Florence leads him on and takes his help every now and then. She leaves on a vacation and Raja sings and runs his way 50 kg down the scale and becomes the deflated Raja (I heard that pfft!). Florence completes the deflating job by telling him that she loves Ranjeet of the C-family. Raja can't have Florence, so he tries at least to ensure a happy union by bringing together the warring factions.

Now Raja and Banto team up on the reuniting job. Two heads means you are gonna get tails soon. Florence and Ranjeet run away, and then follow confrontations, a lot of religious unity fundas and enough sentiment for a lifetime's catharsis. The movie ends eventually after everyone's said everything the scriptwriter had to say about religion.

The story is a take-off from Shubhakankshalu, released not long ago. The rubber suit is an add-on attraction (?). The music is there 'cos you need songs. The comedy scenes are there 'cos Satish Kaushik is directing. But nobody can say why Keerthi Reddy is there. She is the Indian equivalent of the blonde. She gushes when she has to whisper, and screams when she has to emote.

Shilpa Shetty has an atrocious Punjabi accent that gets on your nerves. The C-family and D-family members are passable, though clichéd. And Anil Kapoor does well for one man... well maybe one and a half. Well-tried Johnny, but it takes more than a fat rear to pull in the crowds.