In a daring sting operation, we at fullhyd.com managed to lay our hands on some taped conversations that took place between the crew of the film. Here's an uncensored, unabridged version of the rare footage. Read on about the making of Malli Malli Choodaali.



Director: Hello, Venu? This is Pavans Shredar and I'm making a horror movie with a cheeky title called Malli Malli Choodaali. Wanna give it a shot?

Venu: Never heard of your name before. But that's okay, as long as it's a movie, I don't care. What's the deal?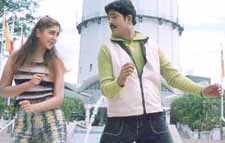 Director: Free trip to Ramoji Film City. Four duets, two fights and one butterscotch small cup during a romantic scene.

Venu: Done. So who's my co-star?

Director: She is Shipra Arora. I met her on the rediff 'wannabe' chatroom. Not certain what she looks like, but she is coming cheap, so I won't complain.

Venu: Sooperandi babu. What's the story?

Director: You (Pavan) fall in love with Dr Gayatri. Gayatri is a gal with a million-dollar body and a multi-million dollar daddy. You are loafer with a tailor for your Dad. For most of the movie, you get to hang around with a bunch of clowns who come in all shapes and sizes. You want to get married to this girl, but a small tiff with the local sub-inspector (Sai Kumar) lands you in a soup. You're framed in a murder. The girl thinks you are a crook. You prove your innocence. When her Dad calls you names because you are a pauper, you take a year's break from loafing, come back with a Mercedes. We don't go into the details of how you reinvent yourself.

Venu: You said it was a horror movie, didn't you?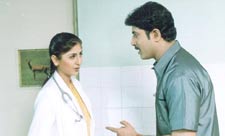 Director: It will turn out to be one.

Venu: No issues. What about music?

Director: I'm introducing Yuvan Shankar Raja with this film. Gee, I'm also introducing him to music with Malli Malli Choodaali.