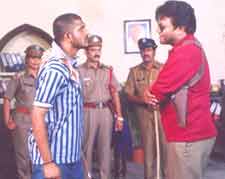 If you have no past experience of committing suicide, then here's a tip: that thing is best kept short, and if you've done a good job, at the end of 120 minutes your body should be merrily decomposing, not spasming about on a respirator. But why do we bring that up here, you ask? Oh, nothing - just a random thought.

Anyway, Khaidi Brothers is a story of two dumb brothers (as in "cannot speak", but it's okay) who take revenge on some rudimentary villains. Noting the inadequacy of either brother to be either the hero or the heroine, the filmmakers bring those in too, in the form of Saikumar and Udaya Bhanu, who do the all-important job of occupying enough footage to take the length of this thing to the standard 120 minutes - now where'd we hear that number before?

Khaidi Brothers is such a piece of crap, it's unbelievable anyone can think up stuff like this in today's world for a movie. We mean, why don't we find people like the makers of this one who can be so easily parted from their money? Grab the story - a bunch of crooks set up a pesticide factory in a village illegally, and that thing pukes to kill half the village. Two brothers of the place swear revenge, and kill each of the villains one by one. There - now tell us, do you know a single guy in the whole friggin' state who couldn't have written this "script"?

Now it's possible to make a good film out of nearly any script, but these guys will have none of it. So you have a pathetic pace, extremely unimaginative dialogues, terrible "humor", lousy lyrics and music, and sick production values. And some of the stuff is so brutally illogical, you wonder if it's the same God who made these people too.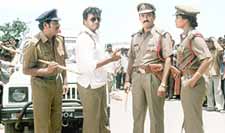 For example, the brothers tell each of their victims the date and time at which they will kill them, and then actually do it. With the possible exception of Lord Yama, we don't know anyone who can do that yet. The police may be bad, but they aren't that bad. Then, the brothers and Saikumar routinely beat up dozens of huge muscular guys, totally unarmed. And we have Saikumar, police inspector and the ostensible "hero" of the flick, chewing gutkha all the while, with the justification that if it's available, then it's the fault of the police.

Saikumar tries his best to look important in a totally irrelevant role. As for the twins Ram and Laxman, they nearly never speak, ostensibly since the villains maim them, but basically because they must suck in dialogue delivery. Udaya Bhanu gets about 20 minutes of screen time, and has absolutely nothing to do but show poor grace and some navel. She probably has potential, and thankfully this movie will be forgotten by next week. Music? Listen to it if you must, but be open to new interpretations.

Now if you've got any enemies... oh, just a random thought.