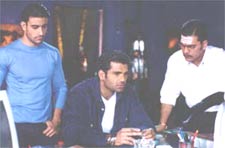 Feminists of the world, unite! Annarth is the kind of film that makes you want to join a banner-wielding, slogan-shouting women's group, what with dialogues like, "Aurat pathang ki tarah hothi hai, kheechon tho kaboo mein hothi hai!" Whatever may have been the reason behind the director's motive in making this, the film wholly lives up to its title - Annarth.

The story of Annarth revolves around Jimmy (Sunil Shetty), whose only job in life is to beat up people while rubbing his nose alternately. His partners in crime include Sameer (newcomer Gautam Rode) and Bindiya (Vinod Kambli, undoubtedly better off with a cricket bat).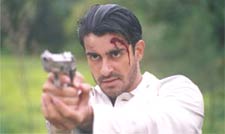 The three of them work for a dreaded don (Ashutosh Rana), who for the entire length of the film is busy supervising various murders. Preeti Jhangiani, hold your breath, plays Sunil Shetty's sister(!), living in a bungalow that makes the Rashtrapati Bhavan look like a chawl. Lost-looking Gautam Rode promptly falls in love with her, and a song and dance later the two are ready to get married.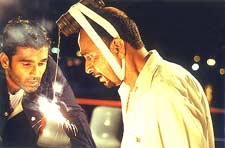 But then there is a hurdle in the form of the girl' s brother who doesn't know that his best chum is not a goon but a cop. Much dishoom dishoom later the lovers are united, but this only after our southern accented hero and the paunchy cricketer are removed from the scene. This, of course, is done by the baddie Ashutosh Rana. And Sanjay Dutt who keeps materializing throughout the film to sing raunchy numbers joins hands with the hair flicking newcomer to end the film. Phew.

The acting is passable, the music mediocre and the direction hopeless. Gautam Rode should stop looking dazed at all time while Vinod Kambli's career was over long back. Ashutosh Rana as the dreaded don is good if a little repetitive, and Johnny Lever as Preeti Jhangiani's suitor provides comic relief, though even here there is more slapstick than anything else. while Sunil Shetty and Preeti Jhangiani should sign movies a little more sensibly. Otherwise, like the rest of the audience, they will be left saying, "Annarth ho gaya!"