Excessively ornate or complex: turgid prose

Into our turgid lives comes a turgid movie. The Phantom Menace is an excessively complex mélange of STUFF.

Remember that scene from the old Dennis the Menace TV show where Dennis wins a contest and is given the chance to spend one minute alone in a store? Whatever he can take out of the store in that minute is his to keep. He races through the store aisles, throwing everything he can into a hammock. Just as the timer goes off, he pushes the hammock - filled to bursting with toys and STUFF - out the door. George Lucas had a specified amount of screen time and a canvas of a defined size, and he proceeded to jam as much STUFF into that canvas as he could. In The Phantom Menace, there is a bewildering assortment of new aliens and new ships, new droids, pod races, new planets, new cities... crammed into the backgrounds, into the streets, into jarring little shots. So much STUFF.

Plot? What plot? It's a SW movie, you'll get plot in the sequel. Maybe. For any admirable person who doesn't know, The Phantom Menace is a sci-fi action movie about a bunch of good guys - The Jedi - vs. a bunch of bad guys -The Sith - in a wrangle over a galactic Empire.

It is impossible, after 17 years of waiting, for there not to be some sort of let down with Episode 1. No film could possibly live up to the voluminous aura of hype that grew up around the Phantom Menace over the last three years. The biggest, and perhaps most unavoidable, flaw is that it's too obviously the first chapter in a series. Half of what happens seems preordained, and the other half seems to be foreshadowing. But while the movie may not be perfect, it is good. Turgid, but good.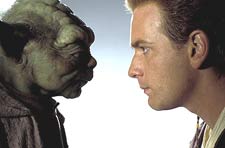 Acting was never the strongest point in Star Wars movies, and the legacy continues in "The Phantom Menace". Ewan MacGregor and Natalie Portman aren't much more than set dressing, and young Jake Lloyd is adequate at best. Liam Neeson, as Jedi Master Qui- Gon Jinn, is solid, but the most annoying character performance is by a non-human: Jar-Jar Binks (played by Ahmed Best), a goofy alien sidekick that looks like a cross between the EPCOT mascot Figment and a warped giraffe, and speaks in an undecipherable, ganga-stained Rastafarian babble. Darth Maul is supposed to be a bad-ass dude, but how bad-ass can you be when you're cut in half by a Jedi trainee?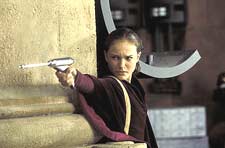 What work best in The Phantom Menace are the balance of a reasonable story, sheer visual inventiveness and state-of-the-art special effects to pull it all off. The spacecrafts are amazingly realistic, and the alien life that interacts with humans is more convincing than half of the actors in Hollywood today. The pod race, the Lego sets and the light saber duels were grand and made for impressive and engaging FX. The technical wizardry of George Lucas finds expression throughout the film, and John Williams is as brilliant as ever with the music score.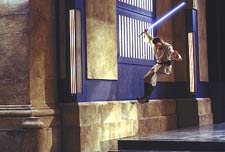 **** Spoiler sentence:

Incidentally, the fight ending has been cut and pasted right out of "Blind Fury".

**** End Spoiler

Reviewer's preferred ending: Jar Jar Binks and Yoda are locked up in a different galaxy even further-further away, where they can do no more harm. So, then, is this flick worth standing in line for a month? Not really. Is it at least worth seeing? The answer to that one is: oh yes, undoubtedly.