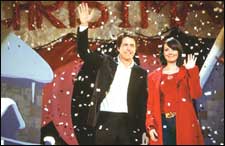 There are two kinds of romantic comedies: ones that compromise on the laughs, and ones that compromise on the mush. Love Actually is the first kind. Not because it doesn't have its shining moments of comedy, but because the aww-factor is much higher. This movie's hit theaters a week too late; it would've made a good Valentine date. Unless, of course, your girlfriend is a heavy-metal fan who thinks Hugh Grant is a floppy-haired idiot. In which case, fortunately for the makers, she's in the minority.

The film is many love stories tangled up and running into each other and surfacing bit by bit so you have just enough to keep you going. Hugh Grant plays the Prime Minister of Britain, who goes down in history as the first one to fall in love with a member of the 'domestic staff', and more importantly as the first one to stand up to an American President.

His sister Emma Thompson is a doting mother and dutiful wife, whose husband is cheating on her with a girl from his office. This diabolical 'other woman' has a friend, Mark, who runs an art-gallery and is in love with his best friend's wife Keira Knightly. Keira and her husband are also friends of Colin Firth, who goes to France to get over his unfaithful wife.

Back home, Emma's close friend, Liam Neeson, has just lost his wife and is getting to be friends with his 10-year-old stepson. The stepson is precocious and madly in love with a classmate from America. Also on his way to America is Kris (Colin Frissell), who is searching for love, eyes full of dreams and, optimistically enough, a rucksack full of condoms. And whaddya know, he does find a bevy of raging nymphs who fall over each other to give him a good time. 'Tis after all, the magical Christmas season.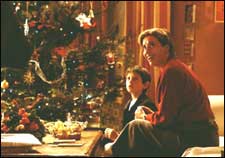 Christmas is also working out great for Billy Mack, a down-and-out has-been rock star whose last ditch attempt at fame actually works as his hit-single makes top of the charts. This awful corruption of Love Is All Around runs in the background as two lonely hearts find each other on the sets of a porn movie, and another one, played by the comely Laura Linney, who is in love with her colleague, finds the going tough with a schizophrenic brother in hospital.

There. Hopefully, we've covered them all. All seeking, finding, losing, wrestling, playing drums, learning Portuguese and holding up placards for love. You know the minute it starts how each story is going to go, and the director's done a good job of not muddling them up. But then it isn't really a difficult film to follow. As mentioned earlier, there are comic gems, and Rowan Atkinson manages brilliance even in a ten-second role. Bill Nighy as Billy Mac is an incorrigible trash-mouth you'll love. And Hugh Grant is, well, Hugh Grant. He grins, blushes and plays adorable.

On the whole, a feel-good flick that doesn't accomplish much else. But isn't that quite enough?