It is one thing to be able to predict the end of a film. But when we begin to predict the point of intermission, it could mean one of two things - we are watching too many films, or the film has a mando predictable storyline. About the first one, we cannot say (really!). As regards the other, well, there is no problem in being predictable as long as you can do a swell job of it.

Anyone who has seen a couple of films of Raj Kiran (Man! We are good. To be able to get into our neurons and dig that one up!) would think Baghban is yet another run-of-the-film family drama where the kids ill-treat their parents once they are unable to provide for their needs or once they do not need them anymore. The thought would be fully justified. It is a candy-flossed family drama. But just sit through it, and you'll understand why Amitabh Bachchan is the Big B, why Hema Malini is Hemaji, and why Salman Khan won the Filmfare for Hum Aapke Hain Kaun.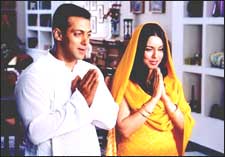 It is the story of Raj (Amitabh Bachchan) and Pooja (Hema Malini) Malhotra. They are blessed with four sons, Ajay, Sanjay, Rohit and Karan - in that order. They have an adopted son, Alok (Salman Khan). Arpita (Mahima Chaudhry) is his wife. After retirement, when Raj expresses his desire to stay with his sons (not Alok, because he is currently abroad), they are none too pleased. They come up with this plan of splitting the two of them, knowing fully well how much their parents love each other, with the thought that the two would refuse.

Pooja does not see through their scheme. Raj does. But she manages to convince him. So, they split up with the intent of staying on a rotation basis with each of their sons. It's needless to say how unwelcome they are made to feel there.

During his stay, Raj pens down his life on the insistence of his friend Hemant (Paresh Rawal) and his wife Shanti (Lilette Dubey). Sometime, Alok happens to find them (and is overjoyed to be able to take care of them), Raj's memoirs become a best-seller, and the film comes to an end.

That is the story, in brief - very brief. The film is loaded with emotion, most of it melancholic. Two hours into the film, and you wish you had brought that pack of Kleenex with you. But, surprises often come from the most unexpected of corners. AB did not even moisten my eyes. Neither did HM have any effect on them. But SK opened the floodgates. In a cameo appearance! He hardly has any screen time. What he has, he shares with his more illustrious co-stars. Nevertheless, after a long time, he shows us what he can do when the right lines are written for him.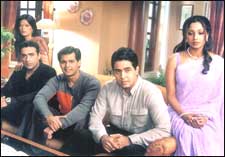 However, there are times in the film when Archie's Cards, Tata Tea, The Times of India, ICICI Bank and Ford are the focus of attention. There are certain things beyond logic. Like, Raj and Pooja have been married 40 years (Come on, Raj is 60, Pooja 55! The constitution sets a minimum age for marriage). But, that does not matter. It is a BR Films production, and those guys know how to make films.

And Hema Malini? She is fantastic. The actresses of today do not even hold a candle to her. The highlight of the film has to be the ten-minute AB monologue at the very end. The man is amazing, and one wonders what took him so long to get roles like this. He holds the film together, and without him... You get the picture.

So, go on. Watch the film. The concepts might feel a little dated, but take some time to think, and be honest to yourself. Are you an Ajay, a Sanjay, a Rohit, or a Karan?