Trinetram Review
Performances
Script
Music/Soundtrack
Visuals
Any guy who is an out-and-out cinema freak will tell you that the medium of film is an art form, and that what is produced within it is therefore open to opinions that are subjective, naturally.

That said, let's take a look at this film, which is touted as being a "spine-chilling devotional story", yet another Ammoru. Caution! "Warning, atheists," proclaims Trinetram! Hang on! Don't run to the nearest altar just yet, because "Trinetram", directed by Kodi Ramakrishna, is decidedly NOT chilling, nor is it apt to affect your views about existence of God in any way, shape or form. Those with insomnia, however, may want to give it a go, because if Trinetram doesn't put you to sleep, nothing will.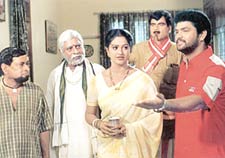 Trinetram is the tale of a living dead girl, Aruna, suffering from unrequited love. Owing to her excellent time of her death, her spirit comes to be as powerful as the Trinetram itself (unlike the poor underprivileged ghost in Raaz). With all those super-powers and with the aid of an evil magician, Aruna makes a 'dead'ly come back to reclaim her pooh-bear Vivek (Sijju) from his wife Vijaya (Raasi). From then on, the movie progresses pretty much in the same way as in Raaz, except that in this case the forces on either side are equal and much STRONGER. Finally, the good girl gets the guy (;)) and the bad girl is turned to a rose.

The performances, in simple terms, are as uninspired as the presentation of the film itself. Beginning with Raasi to the last actor, the portrayals are neither convincing nor unconvincing - they are simply dead - a. k. a. lifeless. This is in large part, of course, a reflection upon the story and the director; the players did do the best they could with what they were given to work with. What this film needs more than anything is some nuance, some spark of life. But where there is no flint, there is no fire. Alas! The barbecue will have to wait for another time and another picture.

Beyond a shadow of a doubt, employing subtlety can be extremely effective in presenting a story with supernatural underpinnings; the director, however, must be astute in the dispensing of it, lest he reduce his audience to a state of catalepsy, which is essentially what our Mr. Wise Guy has done with Trinetram. But to those who have somehow unluckily found their way to this cinematic casualty, take heart; because the movie you were actually looking for is out there and readily available to treat you to a "real" spine-chilling devout story. It's called "Ammoru," and stars Ramya Krishna. Now THAT one is the real deal; it is there that you will find the magic of devotional Tollywood movies.

Trinetram doesn't exactly go "out of the box" for effective F/X; the best Kodi Ramakrishna came up with is borrowing the famous "Skree! Skree! Skree!" sound that he used so effectively in "Ammoru", which here, during one of the apparitions, does nothing but startle the viewer into agitation as it grates on the ears.

In the final analysis, to say that this film is less than riveting would be a gross understatement; there is simply nothing here to make you sit up and take notice. Add to all of this two super raunchy songs and a lame ending, at which point the movie at last make an attempt to draw the viewer in and make an emotional connection, which is too little and comes too late, and what you have is a disappointing and forgettable film, to say the least.

All in all, Trinetram, in summary, is a bona fide cinematic snooze-fest.