Whoa! This is it? Is this all it takes to make a good thriller? If making a good flick with nondescript actors and a dysfunctional music track is so easy, how come Telugu directors often miss the bull's eye by light years?

Offbeat and slick, devoid of the deadbeat and the usual shtick, Aite has all the elements of a Ramgopal Varma thriller, except perhaps Ramgopal Varma himself. It's a kickbutt movie about the 'Big If... and but then' in life. Like the maverick director's trademark movies, this one casts a bunch of vague but talented actors and one popular intense performer, and binds them with a tale along with a twist to create a bloody brilliant movie.

Like Kshana Kshanam and Govinda Govinda, Aite is about what most of us want to do, but are too lazy to. It's about the kidnap of a notorious criminal gone horribly wrong. What if the kidnappers themselves get caught? What if the don turns the tables on them? But what if they succeed?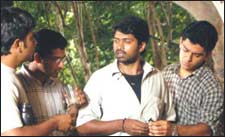 What have we are four stereotypes in the Old City, one orphan with no direction in life, one wannabe police cop who can't grease the Selection Board's palms, another with a poor cotton farmer as his Dad and another disgruntled son of pesky parents. Pass on the remote please. Well, err, okay. So what's common is their alarmingly urgent need for big bucks.

Hook them up with a desperate mafia don trying to secretly fly abroad with Rs. 50 lakh on his head. Thanks to a secret message, the guys lay their hands on about the secret smuggle, and all the foursome has to do is kidnap him innovatively, hand him over to the cops and claim the prize money.

Sounds simple, but only until the cops refuse to believe their kidnap story and even ask them to set him free if they want to. After risking their lives, they are stuck with a notorious and demanding criminal, and a bleak future ahead with no sight of the money. Hope is at hand when the baddie makes a counter offer of giving them four times the prize money if they let him loose. A few mysterious calls, lots of smartass tactics and a generous dose of luck, and they get what they want.

A chunk of the first half with the sad tales of the four chaps and their struggle for money is soporific. Add a common girlfriend with a terminally ill Dad, and you want to bug the lovey-dovey couple sitting in the front row. But the parallel insertion about the dark life of a mafia don makes up for it.

Post interval, the tale gains momentum. The amateur kidnappers fumble and goof up on so many occasions, the whole affair of kidnapping looks ridiculous. Their nutty victim with his polished sense of humor makes the whole thing look rather hilarious.

Pavan Malhotra (a familiar face on TV) as a quirky don gives a totally cool performance. The four guys do a decent job, though Mohit stands out, mostly because of his looks. There is no music track, except one customary song about friendship and other yadda yadda in the beginning.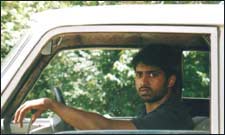 It's the rawness of the movie with no music in the background that gives it the realistic touch. Also, the very real feelings of four not-so-bold guys doing a high profile kidnap like this has been captured beautifully. The director is certain to capture Varma's attention sooner rather than later!