Ever had the feeling that you just have to sneeze, but can't? Something in the nasal mucus that is irritating enough to make your face go red but not enough to cause a hearty sneeze? This one tries and tries to make you laugh, but Mr. Dhawan needs a vacation with Rowan Atkinson to understand that humor is not about laughing, but about making people laugh.

The cast of Hum Kisise Kum Nahin is in splits at its own jokes while the audience are bewildered wondering what they missed. That would be, simply put, 'nothing'.

The characters include Dr. Rastogi (Amitabh in a role that he will regret to the day of his death), his sister Komal (Aishwarya concentrating furiously on looking gorgeous and not doing anything
Raja (Ajay Devgan in another futile attempt at humor - it's time he realized that the only time he was successful was in Ishq, and that was due to Aamir). Then there are Munna Bhai (Sanjay Dutt in a role that is a mockery of his in Vaastav) and his two goons Pappu Pager and Munnu Mobile (Satish Kaushik and Annu Kapoor in two absolutely obnoxious roles).

The tale is pretty simple. Komal and Raja love each other. Dr. Rastogi doesn't approve. Raja tries a few juvenile tricks and fails. Munna Bhai falls for Komal too. Dr. Rastogi forced to decide between Raja and Munna Bhai, and chooses Raja. It all boils down to who takes the dame home. These seven lines of script are blown into a two hour forty-five minute movie.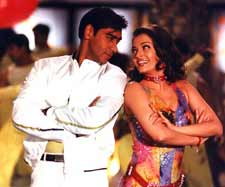 The enactment of some hopeless characters has been carried out like a farcical stand-up act in a down and out Vegas joint. The script meanders like Musharraf when he is trying to talk about Pakistan's peace policies. The humor is so ethereal, you understand why it is called an abstract noun. And the songs... okay, the songs deserve another paragraph.

The music is by Anu Malik, and I don't need to say anything more. The lyrics are by Anand Bakshi, and since the guy is no more, it's not done abusing him. Wonder what got into him, though. To end with lyrics like these after creating gems like "Mehendi Lagi" and "Chingaari Koi Bhadke" is a crying shame. These lyrics actually require a glossary:

Waat Lag Gayi = I've just been electrified

Khaat Lag Gayi = Someone conked me with a 4-poster

KTBH = Kya To Bhi Hai (stress on the intonation which is purely Hyderabadi)

The last one has been provided by yours truly.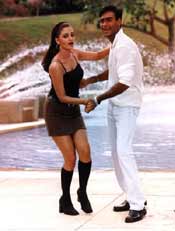 The rest of the technicalities don't matter as the director and the scriptwriter by themselves ensure that the project is beyond salvage. And considering most of the stars in this movie have been having a bad run, the implications loom large. And if you got to see it to believe it, you'd better hurry. This one won't be around very long.