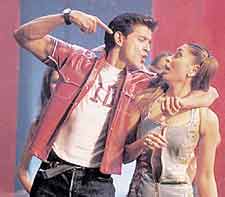 A dude called Molière wrote a play called Cyrano De Bergerac a long time back. It's about a nerd with a big nose who writes like Giacomo Casanova but can't quite pull it off face-to-face. So we have a pretty girl, a handsome friend, impersonation and a lot of jazz. It was made into a movie with the same name with Gerard Depardieu in it, and it was pretty good too. The trick was tried again in "The Truth About Cats And Dogs", and again it worked. It's tried again here by Yash Raj Films, but like they say, "Dig once, you get gold. Dig again, you get gold. Dig a third time and you find yourself in a ditch!"

So here we go into the ditch... er... story. Raj (Hrithik Roshan ), Tina (Kareena, taking over the name Rani Mukherjee had in KKHH) and Pooja (Rani Mukherjee) are friends 'cos their respective dads were friends. But Raj was in London for the mandatory 15 years. Meanwhile Raj and Pooja correspond through email (did email exist 15 years ago?) though Pooja took it into her head to write under Tina's name (and id, we presume). They get pretty pally online.

So Raj lands in India, and finds Tina to be a bubbly, kinda dumb-looking, over-enthusiastic and rather off-putting babe. Does he turn on his heels and run? Nah, he promptly falls for her. Can you beat that?

One of those d*** triangles develops. Raj soon comes to know Pooja was using Tina's id, and he reads out section 13 of the Ethics Online handbook, and then tells her she is his true love. That's where the other two movies ended. But then, they had only an hour and a half of reel to fill.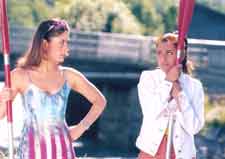 Here Tina's dad expires. So what, you ask? So we have Raj, Pooja and finally Tina playing the Sacrificial Lamb contest - and the audience wins the grand prize. Voila! We have an hour and a half's worth of extra-reel too!

The first half is tolerable if you like the music and can tolerate mushy stuff. But sentimental drama, double entendre dialogues and Uday Chopra follow in a very hard-to-digest second half. And I suspect that the girls who were sitting in front of me boo-hoo-ing were paid by Yash Raj films.

Hrithik Roshan hams a bit in the first half and takes the whole porker after that. He looks like he is gonna have a coronary any moment
when all he has do is look depressed. Kareena seems to have ingested a pogo stick - she's boinging all over the place. Rani Mukherjee does a decent enough job, and should be given a prize for the "Perfect Wistful Expression". The rest of the cast makes for good enough wallpaper.

If you liked DDLJ, DTPH, KKHH, KKKG and the other four-lettered ones, this one will go down well indeed. Three-letter one, though, and you know what they say about three!