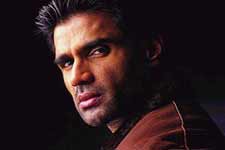 Hi! I'm Inspector Harshavardhan! I was molested as a kid, grew up to constant taunts that my mom was crazy, was outcast by society, and became an underachieving pyscho. And just when I thought nothing could get worse, I had my character enacted on screen by Sunil Shetty. But that is still fine as long as you just remember that all roads lead to Rome and that you should give even the Devil his due, since he who laughs last laughs loudest. What was that, you ask? Oh nothing, just a few clichés - believe me, when you see the number of 'em this film has, you'll agree that what my narration has is nothing.

Our scriptwriter Shyam Goel had originally written Baaz for publication in Tinkle, but it was rejected for being too unoriginal for Tinkle's readers. He then approached director Tinu Verma - and the rest is history. Plus, an apple a day keeps the doctor away, and all that glitters is not gold. But we digress. So here's the tale.

I am a cost-effective psycho living in Nainital - like I said, I come at the price of Sunil Shetty - and am an equal-opportunity killer (though I like my victims curvaceous and, where possible, also female). Some people jeered me in my childhood because my mom was ill, and so now I murder around. Whatever Tinu Verma learnt of Freud must've been through the Tom & Jerry show. Besides, time and tide wait for no one.

Oh, I also happen to be the DSP of Nainital, so that you don't suspect I'm the villian till the end. But that's really a non-issue - by the time this is revealed, you're willing to not suspect whatever we want you to not suspect, if that will just end the movie.

Anyway, when Neha Chopra (Karisma Kapoor) comes to town as an interior decorator for Jaisingh Dabral (Jackie Shroff), the local sugar daddy and Mayor, I set my eyes on her. Did I say Jackie Shroff? That completes my quota of clichés for the rest of this narration. Find one logical thing he says in the entire flick, and I'll do two murders free for you.

Now Neha flips for Raj (Dino Morea), without realizing what a sad actor he is. Now THIS pisses me off - I mean, if that was her criterion, how did I fail? Most people don't realize what a sad actor I am, either! Check me out in my climax discourse!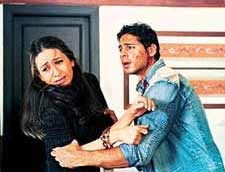 But I am getting ahead of myself. Now I am trying to frame Raj for all my murders, and when my side-kick Preeti (Preeti Jhangiani) discovers that I am the actual murderer, I kill her, too, and neatly indict Raj. For a while Neha too thinks Raj's the murderer, then for a while she doesn't, and after that she loses interest in the film.

Normally movies like this are semi-porn, but Shakeela refused the lead role. Still, we do our bit with Karisma. I myself accepted this role since I thought it would give me an opportunity to stretch. Only, I peaked about 10 years back. As for Karisma, it's a pity her marriage didn't happen. Dino Morea will never peak. In other significant cast - okay, in other cast - Jackie Shroff could have been wasted in a much better role - mine! Preeti tries to mean business, but with a 36" bust wrapped in a 30" police uniform top, there's only so much business people want to do with you.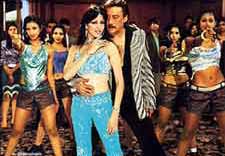 The music is a secret ploy to show various women's curves. Before ending, I have to reveal the greatest suspense of all - who the genius behind that "A Bird In Danger" part of the title was. Well, it's difficult to say it myself, but, ahem, er... you know! Just remember that everyone else in the crew will also lay claim to it - after all, it's so unbelievably subtle and chilling - but a discerning person like you should know who to trust.