The Two Towers is a gigantic feat of cinema despite consisting mostly of guys in medieval armour smashing, thrashing and hurling stuff at each other. But if you look beyond the clutter, you'll realize that there is more to Man and Elf than what meets the eye (hee hee, pun intended!). Anyway, this is the meaty part of the three flick Fellowship sandwich, and unlike most CGI-heavy films nowadays, doesn't leave a metallic taste in your mouth.

Well, The Fellowship has been broken, and there are more elves and hobbits scattered across the land than sheep. And not much has changed in Middle Earth. The evil wizard Saruman continues to build his evil empire of whimpering creatures in sticky suits using his powers, his crystal ball and the biggest nose in Kingdom Come (gosh, it looks like his eyes were using the nose as their walking stick!).

That aside, we have our heroic hobbits, Frodo Baggins (Elijah Wood) and Sam (Sean Astin), who're hopelessly lost. For the uninitiated, they're on their way to the dark Gates Of Mordor. And hot on their hobbit heels is the Gollum - a miserable wraith-like creature who initially attacks but ends up being their guide. Primarily because men don't listen and hobbits can't read maps.

Knowledge creaks its rusty gates open as moptop Frodo realizes that Bilbo Baggins had originally whacked the Ring from Gollum. Well, a hobbit's gotta do what a hobbit's gotta do, and Frodo trudges wearily to the Mount of Doom to destroy the Ring in the fires it was forged in.

Narrative two sees the Man, Elf and Dwarf - Aragorn (still unshaven and desperately sexy), Legolas (what's with elves and the lack of facial hair anyways?) and Gimli (the other world's version of 6 feet under) - scouring the countryside and most of New Zealand looking for the missing Hobbits, Merry and Pippin. This trio stumbles across the land of Rohan, which is serving as the teacup in which the Dark Lord is brewing trouble.

These three narratives are deftly blended by Director Peter Jackson to create one canvass, which he then proceeds to fill in with detailing so minute, it almost turns into the Sistine Chapel of the movies. A case in point is the Battle of Rohan at Helmsdeep - which is undoubtedly one of the best combat sequences ever filmed in cinematic history. The Attack of Isengard is so stupefying that it makes you feel it's your first time at the films.

The success of The Two Towers primarily lies not only in the minute detailing but also in the fact that it remains true to the Tolkien original - in terms of character, action and mythology. The film starts off with a mind-numbing sequence of Gandalf versus the Balrog and steps full throttle - not pausing once to jam the brakes. It's like a battle drum pounding steadily to an exhilarating climax.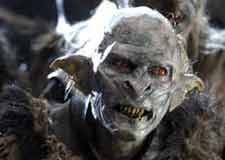 For Tolkien fans, there is much to look forward to. In terms of character, Gollum, of course, blazes the way. Deftly schizophrenic, the way he plays out his dilemmas renders him, at once, uncannily wicked and endearing in a human sort of way. The others just drone on and pass out long-drawn stares at each other, which could only indicate one thing - either they've forgotten their lines or someone just didn't zoom out. The lines are incredibly tacky and thank God for the Animation department, without whom this flick would have sunk faster than you could have said 'Ent'.

There are of course tedious moments where too many characters clutter the screen, and you tend to watch your interest dwindle away - but the large swirling sweeping camera work makes you snap up to some scrumptious landscapes.

As far as sequels go, this one's worth its weight in gold. The Two Towers is a stupendous cinematic achievement. Director Peter Jackson plays out this sequence with a flourish and with plenty of style to spare. And like a Heroic Hobbit once said, "Maybe this trilogy is like an Oreo cookie. The middle part is the best.".

So lap it up, guys!