Look! A different kind of a movie: No more hero as a maddening college idiot singing duets, and no more villain as a psychotic sociopath, brutalising victims. This time we have a villain as a maddening college idiot singing duets, and a hero as a psychotic sociopath, brutalising victims!

Sustaining near fatal head injuries, Vadde Naveen recovers real quick from an accident that has his co-passenger in a coma. But Naveen's lost whatever memory he has had. So begins the search for his identity, his past, his people... and some acting skills! Meanwhile, a bad-ass gangster's terrorising an entire college with HIS acting skills, his punk son and his sense of dressing. The victimised students are hopelessly waiting to be liberated, from him and, more importantly, from the daunting syllabus! All of them appear to have spent the last 40 years of teenage in that very campus, redefining phrases like "growing up together", "getting old with each other" etc.

One such maturely juvenile victim (Shivaji Raj) chances upon Naveen when he's softening up some ruffians. A bulb suddenly flashes in his thought balloon as he has this brilliant idea of using Naveen to clean up the sleaze at the college. So he approaches this totally unrealistic hospital, actually acting like a caretaker for the patient (!), to con the dopey docs into sending Naveen with him. Jyothi (Kiran Gill) assists in the windup by pretending to be the lost love of Naveen.

The defining moment of the film can be termed as the scene when the docs ask Shivaji Raj to specify the patient's name. Looking frantically around the room, he almost comes up with:

- 'Dr. Rajesh'

- 'Dr. Subbalaxmi'

- 'Liposuction'

- 'Bathroom tiles'

Or

- 'This way to the morgue'

But luckily he translates the direction sign into Telugu. And so, 'Dhanush' was born.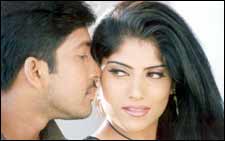 Dhanush does his bit of bone breaking in the college & straightens everything out. But he's not entirely content with his new found life - free admission into a reputed college, a bungalow to chill out, a loving mother and a girl hotter than hell. Where in the world is that Sony home theater? Also, he's not having any recollections of his past days there. So he's still not at ease while getting fresh with Jyothi.

In the meantime, the co-passenger caught up in the accident at the beginning of the flick comes out of the coma. He exposes that the overtly philanthropic Dhanush was an overtly misanthropic Deva before his memory lapse. A bloody terrorist, more merciless than Telugu lyricists! So, Dhanush a k a Deva is arrested and tortured to disclose his partners in crime. Having lost his marbles, his newfound family, his girl and his elusive home theater, he is livid. Therefore, Dhanush escapes from the cops to clear up Deva's mess.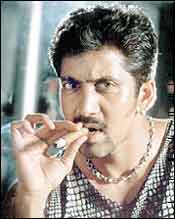 Eventually he busts the terrorist network but ends up in jail because the police believe that Dhanush is now Deva or that Deva is pretending to be Dhanush who himself has murdered a person, or that Dhanush is imitating Deva to intimidate them! Don't ask, just read.

Naveen is a little better in the role of Dhanush. He was bad as Deva and a little better makes him worse as Dhanush. Kiran Gill as a heroine has some hope - she's got depth; she's got flair; she's got a bitching body! The comedy track and the music are outright offensive. Overall, this flick is going to make all those lousy directors spin uncontrollably in their graves.