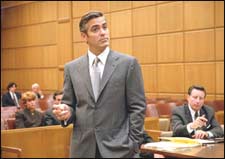 Studies show that by the year 2156, our planet will lose its biosphere. All life forms - plants, animals and humans - will be permanently wiped out. Lawyers, however, will live and raise a breed of their own kind. The most powerful and cunning species earth has ever witnessed. And George Clooney will be the leader, followed closely by the geeks of The Practice.

George Clooney plays Miles Massey, an unscrupulous and obscenely successful divorce attorney with shiny white teeth and an unending gift of the gab. His legendary status is evident from the "Massey Prenup", a prenuptial agreement so ironclad that even he refuses to go by it. Basically, the prenup protects the party with greater assets.

Miles Massey is blissfully winning his cases, milking his opponents out of every drop, when he stumbles upon Marilyn (oh my God - Zeta Jones!). She's the stunningly gorgeous vixen, fishing for rich husbands and divorcing them for their loot. So when Marilyn's libidinous hubby comes to Clooney for a divorce, she's the one who's wronged. But Clooney denies her the pleasures of tasting Lincolns this time.

Marilyn, though, isn't going out so quietly. She finds herself another treasure-pot to tie the knot with, and this time, comes to Massey for the "Massee Prenup", proving she really loves the dud. This baffles poor old Massey, who's agonisingly losing it to this beautiful conster. But then comes the twist, the game that Marilyn is so fond of, and the game at which Massey is the master.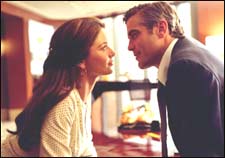 Screwball comedy has been out of the American markets for a while. It is now a patented Brit product, but this one here makes up for the lack of it in some style. Clooney's earlier bout with comedy, O Brother Where Art Thou, hadn't really tickled that many of us. But in this one, his charisma levels need a cork - they're disrupting the interplanetary movements above. When Massey gives in to a weak moment and plants a longing kiss on Marilyn, she threatens that he can be disbarred for that. Charm oozing out of his breath, his immortal reply: "It was worth it."

This deceit-game continues without much mention of any soul and finally fizzles out into a happy ending. The life of the movie is the shadiness of both the hero and the heroine. Catherine as the vivacious and urban woman complements Clooney with ridiculous ease. The way she handles the suave Massey without letting on what she's thinking, even to herself, just makes her that much more irresistible.

But the script is what takes the cake and eats it, too. The beguiling deftness of both the lead characters is tailor-made for a smart comedy. The only letdown of the movie is the cut-short romance between Clooney and Zeta. In the game of cat and mouse, their real love, somehow, doesn't shine through. In all probability, that's only said because it just had to be. Finally, Intolerable Cruelty is intolerably smart, and it'll be absolute cruelty to miss it.