What is a movie with one guy and one girl? A love story.

One guy, two girls? A love triangle

One guy, three girls? A love quadrangle

One guy, four girls? A big fat flop show!!!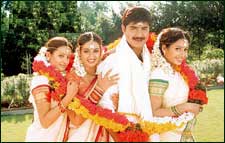 Unless you're in a forgiving mood or watching a Telugu flick after ages, there is no particular reason why you would like this one. Interestingly, there would also be no particular reason why you would hate this one... simply because you get so bored midway that you'll mentally switch off and lose yourself in the Wee Willie Winkie land.

Nenu Pelliki Ready takes off as a comedy, makes a lot of errors midway and tries to end up as a comedy of errors. But there are just too many errors in comedy to keep you glued to the seat or make you fall off your chair with guffaws.

Eligible bachelor (Srikanth) after much persuasion decides to get married, but only after meeting the right girl. So he agrees to check out three girls (Laya, Anita and Vidya), get friendly and finally shortlist the girl with 'those qualities'. However, neither he nor the audience have an inkling of what these qualities are supposed to be. Moral of the story so far: Ignorance is bliss. No brain, no pain!

After spending considerable time wooing each of them and getting them to confess their love for him, he backs off. Why? Neither he nor the director has an inkling why he does a volte face. He simply tells the girls they are not his type. Moral of the story so far: Haste makes waste, but, like, who cares?

After a few more heartbreaks, a few rounds of white lies and some more running around, he decides to marry the marriage bureau girl (Sangeeta). Now, neither he nor she have an inkling of why he wants to marry her, especially considering he barely meets her or sings two songs with her. Moral of the story so far: Losers can't be choosers. Sometimes, they may end up marrying the marriage bureau girl.

A few more reels, a few rounds of boring duets and some stale comedy later, the movie ends. Moral of the story so far: All's well that ends.

The whole effort looks like a college skit put together a day before the D-day after hectic last minute discussions in the campus canteen. Except Srikanth, nobody else has a role or a character to talk about.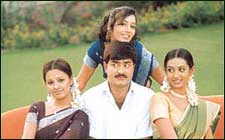 Srikanth looks like a legend in acting when compared to his co-stars, each outbeating the other in mediocre performances. The semi-colon looks more expressive than any of these girls. With barely about 15 minutes of screen time, what performance can they possibly put up?

Vidya seems like she missed the bus to acting. Laya shows some promise in the beginning but soon gets lost somewhere in the big girl brigade towards the end. Anita has a perpetual frown on her face. However, she manages to manage the only nice number in the movie - Nuvvu Vunte Chalu. Sangeeta? You mean she's also in the movie?

Director Venky makes a genuine attempt at comedy with this light comedy. But obviously it's too light to stay in a theater for more than a week. Better luck next time, dude!