If you thought that a Jedi knight was a mosquito mat, that Queen Amidala had a huge satellite dish tucked away under her enormous hair and that Yoda was a type of semi-automatic toe clipper; then obviously you haven't bravely been where Luke and the lot have. And if your last image of Star Wars was Princess Leia's coming-of-age golden costume, then it's time you had the latest helping of this intergalactic mince pie - and while you are dishing it all in, Jar Jar Binks haters unite!

The Phantom Menace began by tracing the story of Luke Skywalker's parents - Anakin Skywalker and Queen Amidala. Blah, blah and blah, and the whole point is that young 8-year-old Anakin Skywalker shows an exceptional inclination towards having the 'force' and seems to be the stuff that real Jedi warriors are all about (which is mostly good looks and also the ability to turn on stuff at the drop of a light saber).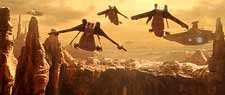 Anyway, in this part of the series, not-so-young Anakin (Hayden Christensen, who, if you ask me, looks like the Galaxy's unanimous nominee for natural de-selection) has morphed into a brash arrogant Jedi knight whose behavior isn't exactly what his master - Jedi Knight Obi-Wan Kenobe (Ewan McGregor) - would rate as A+ in his progress report.

But young Anakin, apart from his rather obvious talents at saber rattling, also finds himself as the Galaxy's stand in for Kevin Costner as he is assigned to protect Senator Amidala (Natalie Portman) from further attempts on her life. Why anybody would like to ice off someone who has too many lights off in her Christmas tree is above and beyond my Neanderthal comprehension.

Anyway, when she's not passing along coy looks on a platter to dear ol' Annie (sheesh Anakin, how low can you go?), she breaks into a full half gallop like a young horse on its first day out in the fields. Hey pal, I'm here to see Star Wars, not Hum Saath Saath Hain - bring on the F/X and the ships. lets spill some guts shall we? (And gee, I wonder if my therapist is reading this?). And F/X galore as the flick launches into mach 5 with the battle scenes.

And this is where the movie excels. Star Wars really was never a series known for its thought provoking intellectual balderdash (that honor lies with Diya Mirza) - it's almost like a 10k brain attached to a 100 gigabyte body. In spite of this, we're are eased into the action as a crooked plot is discovered by Obi-Wan who finds the Count Dooku's (Christopher Lee) cuckoo plans of using clones for purposes other than for extracting wool and posing for tabloid pictures.

While trouble brews in the galaxy, on planet Naboo, there's a tone of cootchie-coo occurring at random speeds between the two lovers. Anakin begins to show snatches of his darker side, which kinda give us an insight into his turning into the absolutely sexy and lethal Darth Vader. GO-DARTH-GO!

How a squeaky high pitched hyena voiced guy like Anakin (Hayden Christensen) turns into a super bass sounding Darth is something only time, other parts of the series and

Anakin's levels of testosterone will show. We'll just let that be! For now, we just know that Anakin is a guy who likes to speak his mind (even though it limits his conversation).

The thing with the Star War series is that it expects you to have a brief working knowledge of the actual series so that you can actually follow what the hell is happening on the screen. With more tech stuff than the American national space policy, Star Wars really is a video game that time and a couple of generations in between forgot to turn off. What's with the whole trade unions, senators and issues stuff about? I didn't think Lucas was so concerned about the Galaxy's trade relations!

Hayden Christensen as Anakin sucks and that's about it. And what's with Amidala and her mega hair-a-chutes? She seems to have packed more than a space shuttle full of clothes and hair pieces whilst on the run! There are some hot scenes though with the supa-cool Samuel L Jackson, and some fairly decent acting by trainspotting Ewan McGregor.

It's really tough to make predictions, especially about the future. But as far as I can see, this flick is a good way to murder some time. And as far as the force goes, it sure makes sure that you stick around till the end.