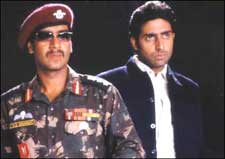 After the scores of experimental flicks this summer, we have the tried and tested formulaic Bollywood action movie that exploits the patriotic fervour and indulges in Pak-bashing - the latter not without reason, though. Fortunately, it does not feature Sunny Baba's histrionics.

Zameen could have been a flick that our valiant men on the border could have identified with. So could have the policemen who dedicate their lives so that we can all live safely. Sadly, it gets reduced to one that we common folk fantasize about when we picture ourselves in Superman's shoes.

In all fairness, it does feature two men who do not have to express their love for their country by shriekingly cacophonous yells, and also they are not infallible - except, that is, when they are taking on scores of men, running faster than the spread of an explosion, and dodging bullets. Ever since the Wachowski brothers perfected the art of bullets in slow-mo, they have become the standard in every action film.

ACP Jaideep Rai (Abhishek Bachchan) works in the Mumbai Police Anti-Terrorist Squad. Colonel Ranveer Singh Ranawat (Ajay Devgan) is posted on the LOC. As the scriptwriter would have it, the two come together to unearth a terror plot. These two have a history, an unpleasant one, which goes back to the days when Ranawat had asked Rai to leave the Army on the grounds of cowardice.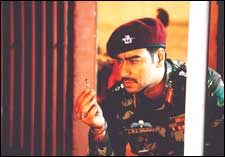 Ranawat captures Baba Zaheer, the leader of the terrorist group Al-Taheid. His henchmen hijack a plane to secure his release, and who should be a flight attendant on the plane but Nandini Rai (Bipasha Basu), Jaideep's wife. Somehow, Hindi films always depict stories in which the city has only one police officer and, in this case, one air-hostess who get all the action. The plane lands in an air strip in POK. Ranawat comes up with a plan to storm the plane that makes the action Israel took against the LTP appear mundane.

Though the USP of the film is its action and dialogues that are meant to appeal to your primitive cerebral stem, it has a few very well directed scenes, and they are not the ones where cars pile up or where the Indian Army storms POK. They are the ones where Jaideep is shown battling his demons, and those that depict the differences in their styles of working. It might star Ajay Devgan, and he gets more than his fair share of repartees and hard-hitting lines. But it is Abhishek Bachchan who shines out as a cop fighting hard to prove to himself that he is not a coward.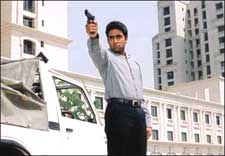 This is Abhishek Bachchan's first action film, and, in this genre, he just might have found his calling. For a change, he acts his part and he looks his part. He even manages to steal the show from Devgan in a few scenes. It might not do a Zanjeer for him, but it would certainly put him on the right track to attaining fame and recognition. If only his split with Karishma does an iota for him of what Nicole Kidman's split with Tom Cruise did for her!

The rest of the cast does its job well. Some may say that Bipasha is wasted in her role that warrants nothing more from her than to look great. Then again, what more do you need from a woman as gorgeous as Bipasha?

By no means is it a film that you would miss much by not watching. Also, it is one that would not give you a migraine if you were to. But, it is a treat for all the Abhishek Bachchan fans. The film is all about him.