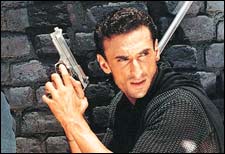 One aspect that is different between the West and us is the homage they pay to those daredevil heroes that play on their lives to protect what they love; the men who care less about themselves and more about the loved ones. Yes, ladies and gents, we're talking about the gallant & the valiant - the hit men and their relentless love for a few dollars more! Bruce Willis, Stallone, Jason Presley et all, they've all played assassins ringing in the registers, but somehow desi hit men never caught on. Supari is about to change that with a clique of rookies imitating 'em hired guns, with equal panache.

The first ingredient to become a hired gun is acquiring a cool code. Since Jackal, Saint, Carter etc. are already used, we have Papad (Rahul Dev), Chicken (Purab), Mushy (Akash Saigal) & Aryan (Uday Chopra), a perfect blend of food groups and history.

These four disgruntled young men look for more than a Slipknot CD and marijuana to vent out their frustrations. They're high on aspirations, high on adrenaline, high on booze, and highly in debt. Serves them right for betting on the Pakis, that too with Sachin around.

Aryan is the culprit who bets and loses the gang 5 pethis. With the bhais hot on their trail, he concedes to the offer extended by Mamta (Nandita Das) and becomes a contract killer. He ropes in the rest of them too, but Chicken, true to his name, shies away from the trigger.

The early portion of the film is young and slick at the same time being mellow and sensible. Aryan's first job, his emotional struggle, his relationship with the rest of the gang and their introduction to the world of crime are all portrayed finely. Dilnawaz (Nauheed Cyrusi) as Aryan's love cherub is sparklingly fresh and adorable. And there's absolutely nothing junglee about Purab's jukebox as he outdoes his associates in acting.

The next half obviously deals with the hazards of living life as an assassin. An important contract goes terribly haywire when Dilnawaz interrupts their target. With her involved, Aryan realizes the density of the blackness he's plunged into. His frantic efforts to untwine himself from the claws of crime keep blowing up. Leather jackets and 8mm revolvers don't come along without a statutory death warning.

With everyone intolerably jumpy and charged up, the split in the gang and death become inevitable. A Reservoir Dogs kind of situation, and bang! But who pulls the trigger on whom is a see-for-yourself. After a kickass first half, the emotional drama might slacken the pace in the second, but that's to be foreseen - leaving the audience high on the guitars blaring and the guns blazing will only induce bigotry towards easy money and fast lives in the teens.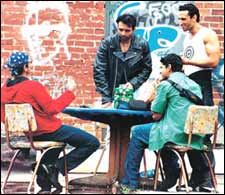 A journey of four guys into the world of transgression and out of it isn't much of a storyline. But add to this brilliant characterisation and amazing performances and ...it still isn't much of a storyline, but it surely makes all the movie you want. Apart from the bloody shootouts, even the soft moments between Aryan and Dilnawaz are dished out beautifully.

The movie loses out on becoming a masterpiece because of:

- A dreadful editing job

- A rather unfeeling performance by Nandita Das

- Uday Chopra perhaps not doing complete justice to a once-in-a-zillion-lifetimes' role, and

- The A/C not working in the damn theater!

Looking away from these, Supari is a safer bet than some movie made for idiotic betel-nut chewers.