Apart from people and animals, who says movies are not educational? They teach us valuable information like - follow me closely here - what causes old people to climb stairs. There are so many instances in a lifetime when the answer to this question can make the difference between life and death. In case there are actual people out there in whose life the above question did make a difference, I hope it's in favour of death! The correct answer to that question is, "I don't know" but it doesn't matter because our filmmakers are relentless in proving that 'love' is the answer. Whatever be the question.

In a sheer curiosity frenzy, more powerful than the one that gripped the world after "Why did the chicken cross the road?" a bunch of young couples want to know why the old man climbed up the stairs of the love temple. The old man, like any other in the universe, was only waiting for an opportunity to tell his tales of yore, the time when history was current affairs. So begins his narration of the story full of emotional and spiritual insights. For the audience, that is.

Venu and a bunch of mismatches (Sunil, Narayan Murthy, Suman) take more than just a marriage contract - they take unsolicited responsibility for the smooth sailing of the entire ritual without hiccups. Like, when the groom disappears once, Venu offers his brother as a replacement. Surprisingly enough, the bride accepts too.

Equipped with such timely intellect, adept management prowess and funky shirts, he's all set to steal away Nikita's ticker. Nikita bumps into Venu at that very wedding, and it's evident that something's gonna cook between them, especially since Venu is the head cook. Having so many credentials, what girl would reject him? The one who cares about acting skills, I suppose. But obviously, Nikita isn't the complaining types. She's the groaning types - the kind that makes us groan every time she tries to act.

A solid chunk of the first half is spent in that wedding. Sunil, Narayan Murthy and Venu take turns playing the fool in the house, and some of the gags they pull will draw out a few sounds, which we have to assume to be the best medicine. Nazar appears again in a straight Telugu movie which might be indicative of a lack of opportunity in the Tamil industry. I might be wrong and I hope I'm wrong. Being one of the finest actors in the country, he surely deserves all the chances he can get. He plays Nikita's dad, and makes up for her shortcomings too.

Soon, Nikita and Venu are all set to take the holy plunge, when Nikita's sister, Venu's sister-in-law, is killed in a freak accident. The pain is that Venu's family is cursed and all the women who come into his will have to die. That's not much of a curse now, is it? "All of them have to die"? Of course, every one has to die, but it seems they'll have to die premature. Nazar, having lost one daughter, doesn't want to lose Nikita too, so he pleads with Venu to break up with her. And the movie gets all serious and the likes. In the end, however, the curse doesn't even matter.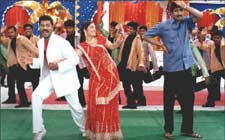 Some decent music and a few minutes of comic relief are the wheels that drag this but a 12-wheeler never got far without all of them. Nikita has two extremely sinister left feet. The Statue Of Liberty is more animated than her. Heck, Venu is more animated than her! Oh yeah, I almost forgot. This one has Prabhu Deva too in an important role - as the choreographer. As an actor he's as important to the movie as a pickup line for Brad Pitt!

All in all, see this to know why the old man actually climbed the stairs.