Khel - No Ordinary Game, says the title. Yep, it is not an ordinary movie, either. Only in Shetty land (his company has produced the film) can you make a movie that can bag him the best actor award - for that film, that is.

Celina Jetley was great (in fact jaw-droppingly, heavenly, ravishingly, sex-da-maccha, stmysseggfyrskjbnnguyfghly hot) in that Jazzy B video. Her secret? The bikini. Give her a few clothes and a few lines, and she is no different than that mannequin in your friendly neighbourhood store - perfect form, but one that does not merit attention. We all know that getting Jadeja out of his Close-Up ad should have been preceded by the mutation of his cricketing genes into acting genes. Of course, Sunny baba does what he does best - histrionics.

Anyway, this is an action flick. Only the most uninitiated look for any acting prowess in such films. Or for that matter, for a script, or a screenplay, or the cinematography, or the music, or the choreography, or for action. Oops - I guess the last one is mandatory.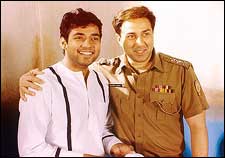 Dev Mallya (Sunil Shetty) is a business mogul. Rohan Poddar (Ajay Jadeja) and he have been best pals ever since either of the two could remember. In comes Saanjh Batra (Celina Jetley), and she manages to rouse the same passions in the two of them. Our Mr. Mallya is unable to digest the fact that he could ever lose out on anything, and uses his entire wherewithal to implicate Rohan in a crime he did not commit, and gets him behind bars.

That is about all that happens up to the interval, when across the screen flashes, "And The Game Begins". And to think that you spent an hour and a half only to watch the lines being drawn on the field. Post-interval enters ACP Ranveer Pratap Scindia (Sunny Deol), and he finds things wrong with the manner in which Rohan was convicted. He starts digging deeper to find the dirt. Being the good cop that he is, he frees Rohan, and arrests Dev. And all is well that ends well.

"So, nothing happens post-intermission, either?" you ask. Well, a lot of bones are broken and a lot of bullets fired. It is a treat for all those who still have not been able to get enough of the CSI style graphics, the slow motion bullet shots, and the out-of-focus scenes (the last two have been done to death). Also, the hardcore Sunny fans can witness the linguist side to his performances (read melodramatics) - he speaks in Hindi, Telugu and Punjabi, with élan.

The background score is really good, and apt for the film. However, it is unable to compensate for the squeaky-voiced Jadeja or the irritatingly chirping murmurs of Jetley. If looking hot was all it took to become big names in mainstream cinema, why do you think we have our Coral Sands, Dolly Goldens, Jenny McCarthys, Anna Nicole Smiths and Asia Carreras ruling over a slightly different audience?

Billy Wilder once said, "Shoot a few scenes out of focus. I want to win the foreign film award." Whether it worked for him or not is not the question. Whether it will work for this film or not is also not the question. It won't.