Hi! I'm a chair in Amba. Since I watch a film more often than a fullhyd.com reviewer does (and as you can see, both of us need to get lives), those guys thought I'd write a better review, and so here I am. And about time too. Other inventions that came centuries after me have had even movies made about them - computers, robots, machines, heck even aliens - but my kind has always been grossly abused. Not anymore. Villian has started the greatest revolt against mankind ever. Chairs, seats and bar stools of the world, our time has finally come.

This is how it all started. When Villian had come to the screen in my theater, I was all excited. The applause was huge, and on the screen Dr. Rajashekhar was being questioned about the multi-million robbery at the minister's home. He had been loafing nearby at the time of the robbery. But being physically challenged, he's left Scot free. Once that happens, he drops the act, grabs the loot and dances away while the minister and the rest of the police is wondering who that Villian is.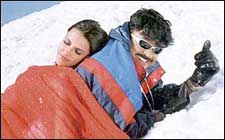 Seats are never given any thought whatsoever, except of course, in Parliament. Even there we are thrown around and demonstrated against. Just because we don't show any emotion doesn't mean we don't feel anything. In this regard, we are same as humans. Neha Dhupia and Sanjana are as animated as I am, but they are in the movies. Neha Dhupia is helping Rajashekhar in robbing the rich and Sanjana is falling in love with him. Anyway, the Robin Hood plot is at its own again, and Rajashekhar and his gang steal some more booty.

This they're doing to rehabilitate crores of physically challenged people across the state. This soft corner for the special people is because of Rajashekhar's twin bro, who is special himself. But his efforts run into a dead end when the boss of the local mafia stands in his way. The baddie is planning to bomb the orphanage simultaneously with Sanjana. Okay, so he's not trying to bomb her, just nail her, but she's a bomb so... Hey, don't get mad - I got confused, I'm just a seat.

So while Rajashekhar is saving the orphanage, his challenged twin is saving Sanjana. In a highly melodramatic scene, he kills the baddie and his bro saves the orphanage. Times up and the show's over.

After the show I was counting all the good points in the film: Rajashekhar's performance, and the touchy scenes with his bro as a kid. I couldn't count anymore, and that's when I decided enough is enough. When the hall is full, we watch bottoms the size of Jupiter descending on us (thank God we don't have noses), and when the theater is empty, we watch movies like Villain. Is that a choice? That's why I decided to unite all the seats and chairs of the world over and take over the planet. How? Haven't figured it yet. While I do that, you go see the Tamil version of the movie. Maybe that one's better, I'll check with my colleagues there.