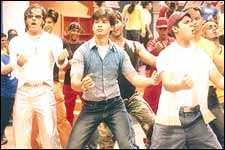 Without a doubt, the summer's most eagerly-anticipated flick by the dewy-eyed teens is Ishq Vishq. After, that is, Armaan, Andaaz, Boom, Bhoot, Main Prem Ki Deewani Hoon, Khatra, Jajantaram Mamantaram... So here's presenting to you, a wonder that took the crew 14 months to shoot, but which now only takes 3 hours to show!

Rajiv (Shahid) is a morally virtuous teen - respecting his folks, being loyal to his buddies, going to college everyday and flipping through Penthouse without his underpants off. Payal (Amrita Rao) is his glamourless playmate, loving and stalking him ever since his childhood. Instead of handing her over to the cops, Rajiv decides to hand her over to a more sinister force - his lip-syncing to Kumar Sanu!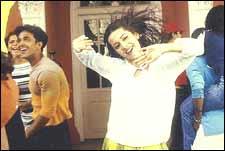 Being girl-less (with those rosy lips & flowery clothes, what did you expect, cream boy?) all his life, he jumps at an opportunity and signs the movie! Getting back to the story, Rajiv now professes his 'love' to Payal. This he does purely with the intention of having his first taste of God's best creation. And trying to get it from someone from the opposite sex also adds to his virtuous tag! Payal, a conscientious Kadwa Chouth girl, will have none of this wantonness by Rajiv. And so they break off, with him looking for some other girl to dance with.

Amrita Rao looks tailor-made for her role. It's physically not possible for her to play a gorgeous 'babe'. To describe Shahid, I'd like to use what did in an earlier review, since it was clever and mostly since I don't have to think of anything else - he looks like a before and after ad of a Dancing Academy. Mostly, after.

If there's one thing you don't need in a college set-up, it is a bunch of annoying pinheads as the cliques of the lead pair. This film doesn't, but I don't know if that's good or not 'cos throughout I was wishing they were the lead actors. A special mention to characters named Mambo & Rocky that make this side of the interval, cheesy. Music-wise, the first song of the flick is really cool with slick choreography, vibrant sets and heavenly bodies.

The second half can be described best by the title of a Deftones' song, 7 words:

1. Sucks: because Rajiv and his entire college and the entire crew believe Shenaz to be a Greek goddess. Puh-leeeeeez!
2. Sucks: because Rajiv gets her to like him through a gag that pokes fun at Sachin. A bunch of no-good-keisters, without an aorta of talent, have no right to intend fun at one of the greatest achievers India has.
3. Sucks: because the popcorn's too spicy and you spilled your cola!
4. Sucks: because Rajiv realises that he loves Payal and not Shenaz. There goes your anticipation of a steamy hot scene!
5. Sucks: because you have to witness everyone trying to get emotional. But nobody succeeds in getting there.
6. Sucks: because you realise that you remember useless stuff like seeing Shahid in a Pepsi ad, a music video and in a song from Taal. And even more useless stuff like seeing Shenaz on MTV.
7. Sucks: because the flick has a clichéd ending... with the credits coming along!

Clearly evident from above is the fact that Deftones don't have much of a vocabulary. And also that the new generation needs more than glycerine to show some emotion.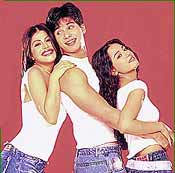 Ken Gosh, with the limited paraphernalia, has done a good job. The movie just breezes through and that makes it better than many, many others and earns itself a decent rating. Shahid has a long, bumpy road to go before he can be anywhere near his dad's acting prowess (that's Pankaj Kapoor), but he might get there. Amrita Rao is not all too convincing as a teen and Shenaz definitely looks better on TV - 'cos then, you can turn the damn thing off!

All in all, every once in a while comes along a film. This is such a film.