The one-man-two-wives tale has traditionally been the bastion of the likes of David Dhawan who have spared no efforts (or viewers) in converting it into 16 reels of thermoplastic resin that they term a movie. So it is but obvious that to add that thing Bollywood calls 'novelty' or 'that something different', we have the 'angrezi gori' connection, even though it has been done by Tollywood years ago, and better.
That novelty thingie stops there. You still have to go through the sad comedy and the Punjab connection. Honestly, they should crucify a certain someone called Aditya Chopra who started it all with
DDLJ
.

Jimmy (Ritesh Deshmukh), like millions of others, comes to New York with dollar dreams in his eyes, and like millions of others gets stuck with driving a cab in Manhattan. On his birthday, he is taken to a nightclub by Mango (Satish Kaushik) where he meets Sally Turner (Brande Rodericks). As they say in supermodel lingo, one thing leads to another, and Sally falls in love with him.

So when there comes up a problem with Jimmy's immigration, she helps him out by marrying him. All goes well till Jimmy gets called to Patiala on the pretext of his father's (Amrish Puri) ill-health, only to be told later that it was a farce all along. The real plan was for them to get him married to a Punjab di kudi, Richa (Hrishita Bhatt). Now, this guy may be living in NY, but in front of his dad he is more timid than a cow - pitaaji jis khoonte se bandh dein woh bandh jaata hai.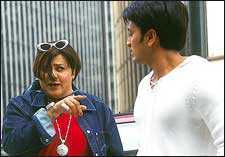 Anyway, after getting married again (this beats the record of Ross Gellar from Friends), he returns to his American wife leaving behind the Indian version. Hey, here is a thought - maybe wives come in different application packages tailor-made to suit the ever-changing needs of the consumer.

Then his life gets Out of Control. Jeez, what did he expect? To have a marvellous life where both women would be grateful to him and thank their stars that they are fortunate enough to be his wives?

But the film is not a bad deal - especially if you are of the firm opinion that polygamy should be made a way of life. A couple of songs had the audience enthralled, a few comic moments had them in splits, and a few scenes had them catcalling. It is your regular masala film where you do not expect much but kind of get this feeling of paisa vasool at the end of it.

Ever wondered how Vashu Bhagnani could rope in a 'hot and happening' "HOLLYWOOD STAR"? Here is how.

a) She ain't all that happening, though she is HOT as Hades
b) Her only claim to fame besides Baywatch is soft porn

Not that that is a hindrance in any way. In all probability, you would be completely in love with her by the time the movie ends; she is amazing - her not being a natural blonde notwithstanding.